DAHLINGS -
My apologies for the slight time lag, but it was party time this weekend. More than that I shall not say, to spare the feelings of those involved. Suffice to say I am never setting foot outside of New York City or the Hamptons again.
And so, we start the
CMT Worst Dressed
list with
The Paula Deen Death Stare
: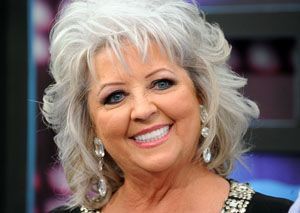 "I'm goin' to rip your spleen out and stuff it down your throat, darlin'."

There was an embarassment of...er...
riches
for this list. Our first candidate:
Miss Teen USA!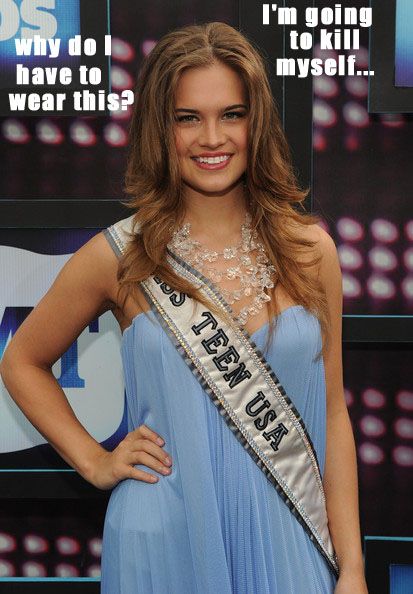 Can you imagine having to attend events dressed like your own grandmother? This accidentally-vintage 70s-style horror must have been as much fun to wear as it is to look at.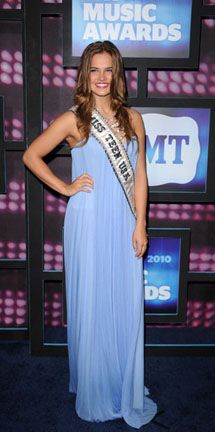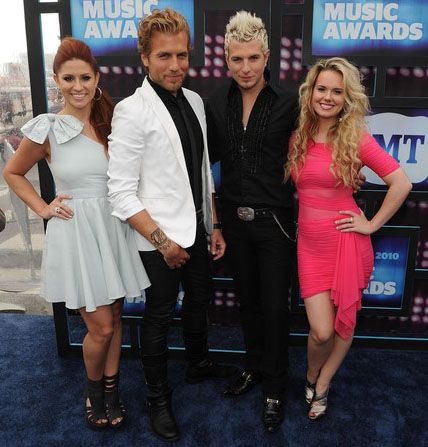 In the midnight hour, she went "more, more, more"...
I have no idea who these people are, but the photo made me throw up in my mouth.
Kellie Pickler appeared in a pouffy 80s prom dress, minus side ponytail and Scrunchy. I should have known it was by Zuhair Marad: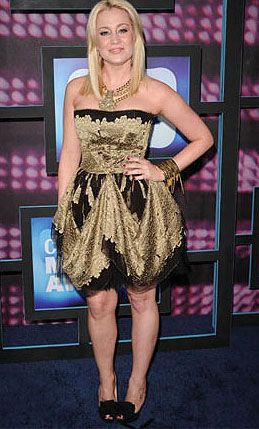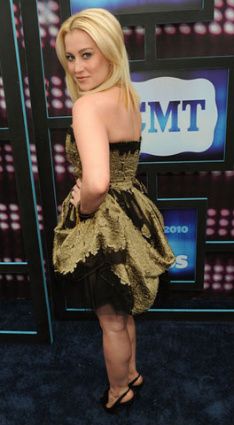 >


Hayden Panettiere worked two 80s trends, Qiana and black lace by Pucci...this is the unfortunate result.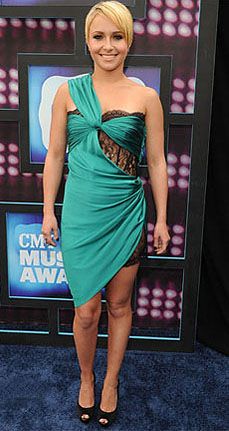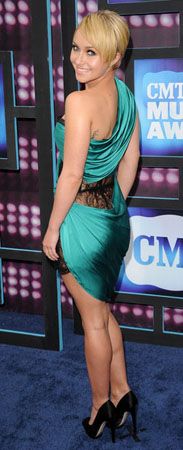 Finishing our trip down Bad Fashion Memory Lane, we have Miranda Lambert dressed as a human disco ball:
You'd think by now female celebrities would know how to get their dresses properly fitted up top, but it seems to be a bygone art.
In my previous entry, I mentioned Faith Hill's enviable sternum. Laura Bell Bundy flaunts her utter lack of body flesh in the gilded mess: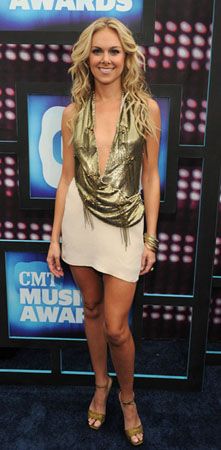 As much as I approve of cleavage, the lady on the left might have considered wearing a proper brassiere: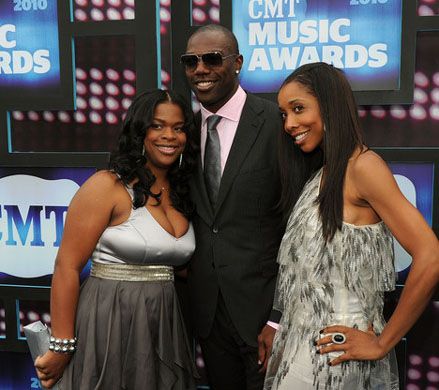 Karen Fairchild forgot that all-important lesson: if you are going to wear padded cups, remember to put the pads in them before you exit the limo!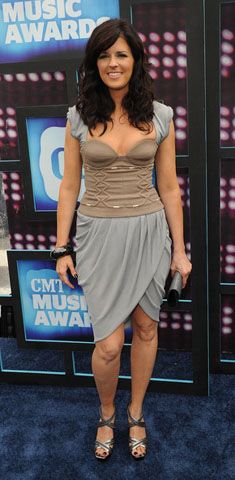 Beautiful songstress Sheryl Crowe demonstrates how to de-emphasize anything positive about your figure and emphasize that you are wearing an overly-large, badly fitted dress that makes you look like you haven't eaten since last October.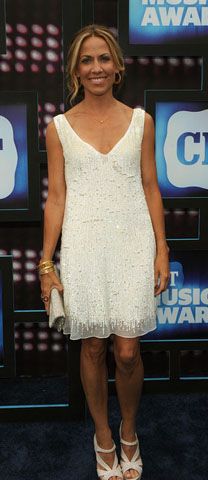 This is the category into which I toss everything that is simply, well, ugly.
And it's not just the women who have a lockdown on this category.
For instance, Jake Owen in this blinding nightmare of a shirt.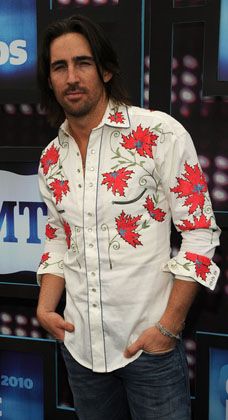 Julianne Hough illustrates that nothing does more for a girl's looks than a yellow dress with a bright yellow pubic hair applique: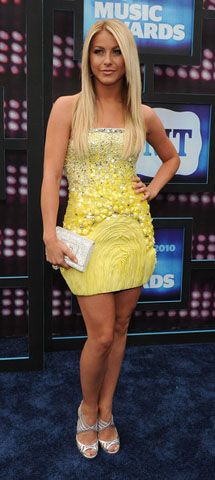 Way to emphasize your talent!
Some celebrities opted for a less subtle approach. This "television personality" opted to wear her pubic hair on her collarbone: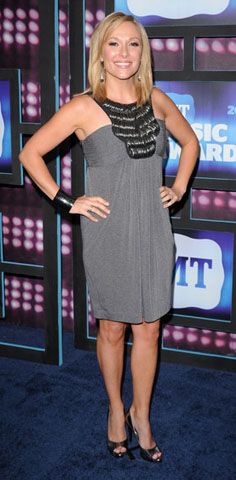 The Situation shows his claim to fame...isn't his 15 minutes up yet?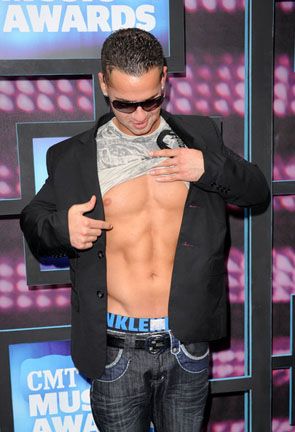 Speaking of which, we have the inevitable Snooki in her aluminum foil dress: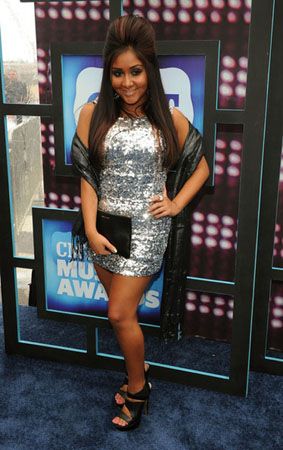 Carrie Underwood has never been known for her quiet good taste, and she again failed to bring it this Jenny Packman strange pink...draped...buckled...thing.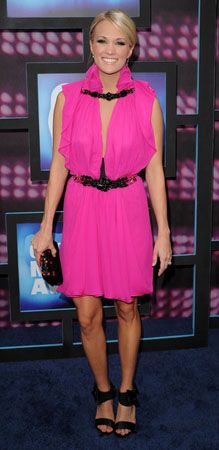 And finally:
All I can say about Kimberly Schlapman's look is: EEEEEAAAAAAAH! I'M BLIND!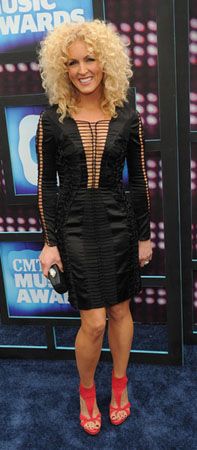 The hair, the dress, the shoes...oh, dear God, the hair, the dress, the shoes!
At least it's unique...thank goodness
.
There is nothing that can top that, at least at this awards show. Feel free to express your opinions in the comment sections. But bear in mind that I am always right.
Ciao,
Elisa & Bucky the Wonderdog