DAHLINGS -
To put it in a way country music fans will understand, the pickin's were mighty slim at the
CMT Awards
earlier this week. Not quite as much of a snooze fest as the
MTV Movie Awards
, but there were a
few
pretties on display.
But before I begin, a question: why is
David Spade
allowed to
live
, much less attend the
CMT Awards
? What does he have to do with country music? Is owning an Ipod really enough?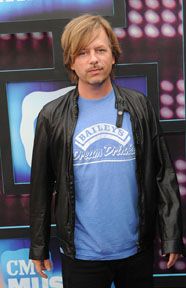 And he looks so delighted to be there, too.
All right, on to the
Best Dressed
.
You all know my taste, which inclines toward the classics. However, my
favorite
outfit of the night belonged to
Elizabeth Cook
: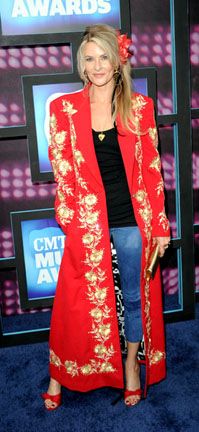 This had color, individuality, and for this fashion writer, the sense that a woman with
style
picked her own clothes. Others may think it bizarre, but I applaud
Ms. Cook
. More than anything, this ensemble is
fun.
Next, we have
Faith Hill
, in a breezy chiffon creation by
J. Mendel
that both flatters her figure and projects a secure self-image: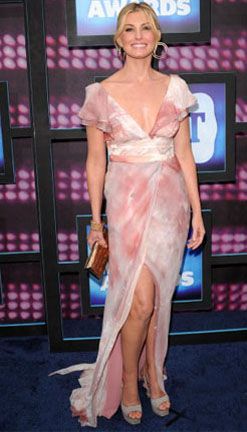 I am not a fan of showing this much sternum, but
Ms. Hill
actually has something to
show,
unlike many of the other evening's participants.
Lady Antebellum
singer
Hillary Scott
worked a little black strapless dress that fit perfectly.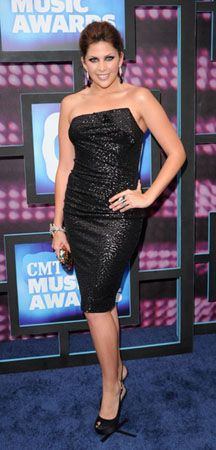 Taylor Swift
looked pretty if rather uninspired in this
John Galliano
dress. Much fuss has been made of the fact that she straightened her hair that evening.
This just in: Taylor Swift's hair announces that it has solution for the Gulf oil disaster!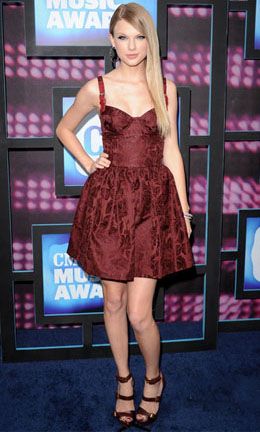 Jada Pinkett-Smith
was the essence of confidence in this blue crushed velvet dress, a mashup of two different
Emilio Pucci
designs: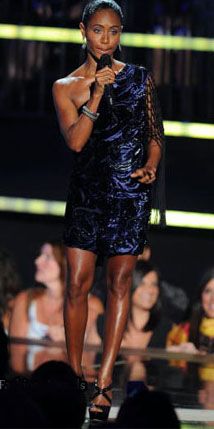 My only criticism is that velvet seems to be an
awfully
warm fabric choice, particularly under the lights.
In the "Close, But No Cigar" category I am sorry to put singer
Trisha Yearwood
. While I admire her for her womanly shape, why dress it in a black, ill-fitting, unflattering dress that looks like it was made of black garbage bags? There's a goddess's figure under there,
Ms. Yearwood!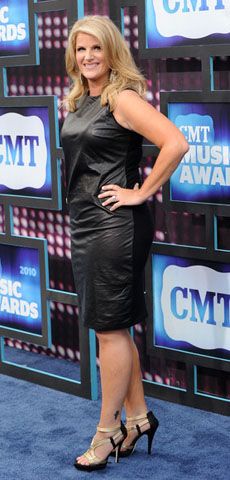 Sarah Buxton's
Empire-waisted dress was nice; sorry, no more interesting word comes to mind, but I rather liked it: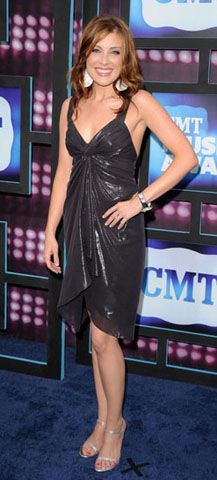 Although she is
extremely
gaunt, a disturbing trend that is taking speed
throughout
all of the entertainment industry (yes, I'm talking to you,
Jennifer Hudson
. Thank you ever so much for letting down
thousands
of larger women. I cannot wait until you gain it all back and the tabloids go insane).
For the menfolk, my first choice is
Trace Adkins
, shown her with his lovely wife and daughter. (It is also so refreshing to see
real
women at these events, even if they are invariably wives.) To me, he looks authentically "country." Since I do not actually
listen
to country music, to me
Mr.
Adkins
looks like he gave his outfit some, but not too much, thought.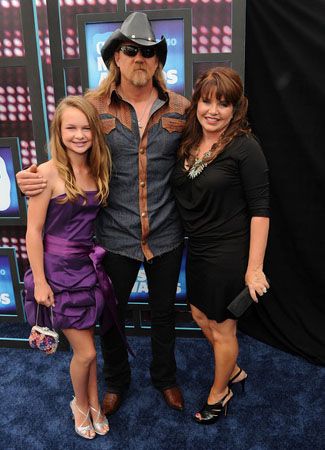 I loved musician
Danny Gokey's
take on the tuxedo (his resemblance to
Robert Downey Jr.
doesn't hurt, either.)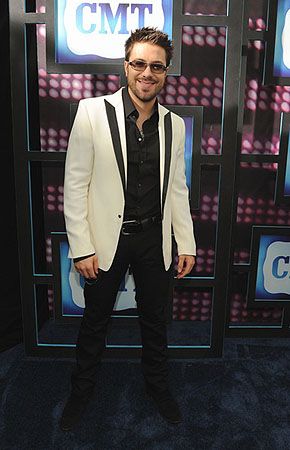 That is it for my Best-Dressed list, dahlings. To be honest, I did not think I would be able to make this many choices. Even if some of them were a bit of a stretch.
Worst-Dressed List up soon, and there are, as the common folk used to say, some
doozies.
Ciao,
Elisa & Bucky the Wonderdog