DAHLINGS -
Deepest apologies from your faithful correspondent. Not only have I neglected to write about the first three episodes of
Project Runway
, it's taken until now for me to put together my best and worst dressed for the
Grammy Awards
. (I plead that my last assistant quit after we had a one-sided game of paintball in my gymnasium; she wasn't allowed a paint gun because
I'm
the one with a designer wardrobe, damn it.)
So, without further ado, my choices for the
Best Dressed
At
The Grammy Awards
. This is a far less
stuffy
affair than most award shows, so the participants are freer to express themselves. This can either be a good or a
very
bad thing. There was so much pure
hideousness
it was difficult to even put together this list! Forgive me if it is shorter than usual.
For best dressed, my first choice is singer
Adam Lambert
:
Not only does the "guyliner" work, his outfit reflects his persona perfectly: out and proud, with a style all of his own. I'm in love with the sparkles on this jacket and for some reason he can pull off spiky hair far better than most (are you listening,
Rihanna
?) Most of the male musicians were either in dark suits or country outfits,
yawn.
Next, we have
Keri Hilson
. I have no idea who this young woman is, but the dress is a classic, and I tend to be a classicist. It is a mermaid gown by
Dolce & Gabbana
:
Mary J. Blige's
choice of red carpet dress is faultless. This
Gucci
creation flatters her beautiful body and the color is stunning on her.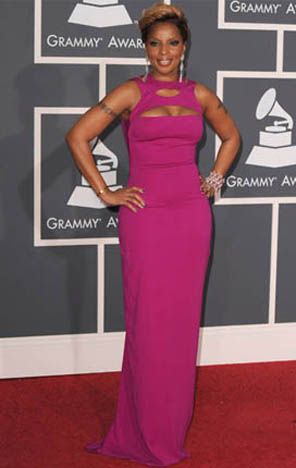 Pink
entered in an uncharacteristically ladylike gown in ombre tones by
Tony
Ward.
The subtle jeweled embellishment on the waistline and top of the bodice gave it that touch of femininity (which softens the effect that she'll punch your lights out if you don't like her dress).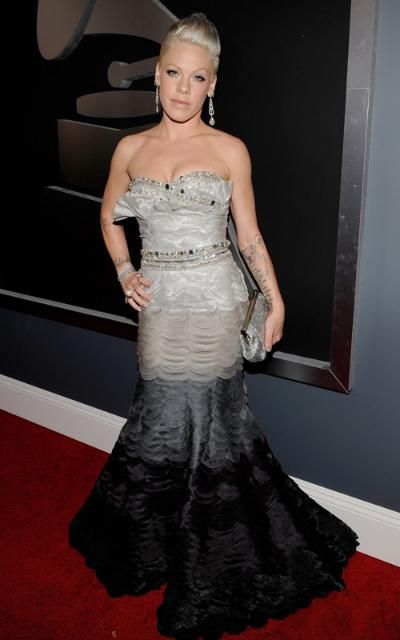 During the awards show
Pink
did an acrobatic performance in which she did the most amazing imitation of a hotel fire sprinkler that I have ever seen. Since there was nobody on fire in the audience, I hope they did not mind getting drenched.
Gaby Sidibe
looked sexy and youthful at the midnight
after-Grammys
party. This dress is perfect for her shape, quite an improvement from the
Golden Globes
!
And I have to admit, this dress was very near the top of my list--
Lady Gaga!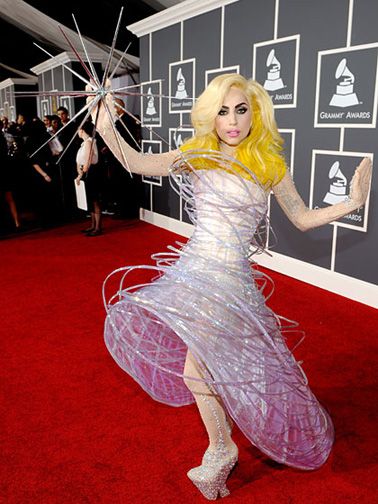 Although the thing in her hand reminded me of
Edward Scissorhands
, your faithful correspondent loved the "lightness" of the dress (although it probably weighed a ton). One hopes she didn't cut too many other people on the red carpet. Although since it is red, perhaps nobody noticed unless their clothes were stained.
I could have done without the shoes, which in close-up looked like an unfortunate fungal infection:
So that is my Grammy Awards Best Dressed List. Feel free to comment, to agree or disagree, but bear in mind that I am always right.
(For the record--pardon the pun--I was bored by
Taylor Swift's
gown, and
Jennifer Hudson
, although in a pretty outfit, was so
thin
I was dismayed. It is always so sad to see yet another larger lovely buy into the Hollywood anorexia culture.)
Ciao,
Elisa & Bucky the Wonderdog