DAHLINGS -
Before I start my list, I must say how
thrilled
I am that at last night's
The People's Choice Awards:
1)
House MD
won as Best Dramatic Television Show
2)
Hugh Laurie
won as People's Choice Dramatic Actor!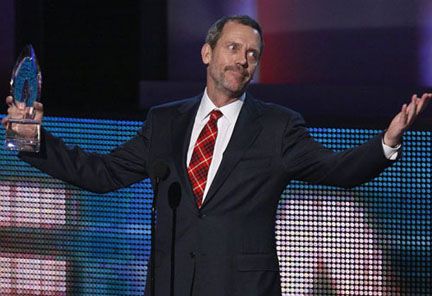 However, I cannot put the star on my
Best Dressed
list because of that
tie.
Showing that
James Wilson
has not yet cornered the market on ugly ties. It was also delightful to see him with his
real
hair, without a hairpiece or whatever it is they put on his head and
less beard.
The program itself was
hellish
to sit through. Approximately
three
minutes of programming, then
eight
minutes of commercials, then several minutes of a "special advance preview" of either an awful movie or an awful television show. If one cannot make a project look good in
two minutes
, one is in
trouble
. That's all I can say. The nadir was a CVS commercial used as actual programming. I have blocked the details from my mind. Onto the important part: the dresses.
The list for this event is a
bit
more difficult than my usual. So many of the stars, no matter
what
their wattage, wore one-shouldered dresses. Most of them were draped, Grecian style, but there was no shortage of other variations.
I must begin my list with the Host of
The People's Choice Awards
, the divine
Queen Latifah.
Her black one-shouldered entrance gown, with its evocation of 1950s movie star glamor, was perfection, as were the chorus boys helping her maneuver down that ill-conceived ramp stage left.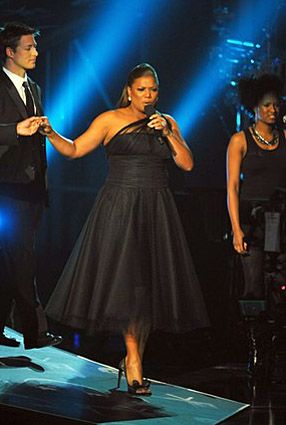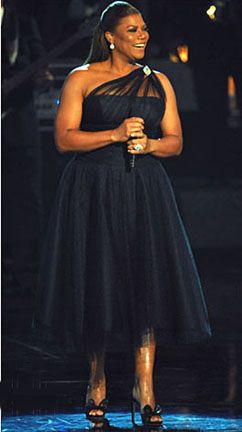 Another dream dress was a white strapless Georges Chakra gown with metallic trim around the waistline: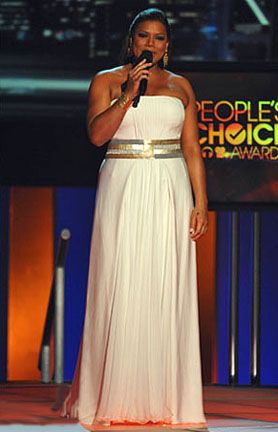 Next, the
only
reality show host I enjoy who's not on
Project Runway
,
Clean House's Niecy Nash
, showed off her stunning figure in a hot pink Grecian dress ( I told you one-shouldered dresses were all over the place last night). One had to restrain oneself from writing "my homegirl" because one has a
smidgen
of propriety.)
Lisa Edelstein
, also of
House
,
always
makes my Best-Dressed List. She simply cannot look other than ravishing, although this
David Meister
gown is not one of my absolute favorites. But
Ms. Edelstein
gets points for covering both shoulders.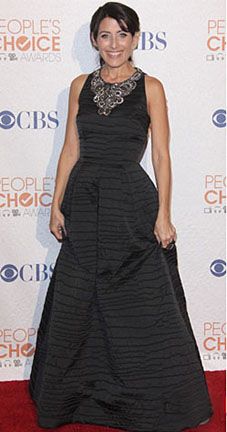 Speaking of
House
...I must betray my own values, my
deepest
feelings, and almost everything I have written about her in this blog...but...
Olivia Wilde
made my list. Apologies, dear readers, but AT LAST
Ms. Wilde
wore a
Monique Lhuillier
dress that was flattering, rather than one of those awful skin-tight gowns that showed her jagged hipbones. Again, like the
Queen
, a fluffy dress, evocative of the 1950s: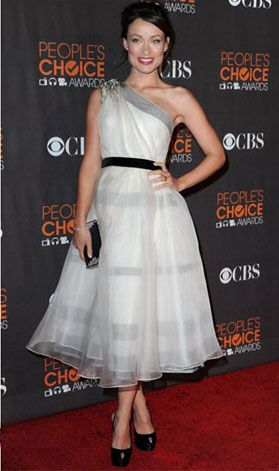 Taraji P. Henson
, voluptuous as always, struts her wares in this lovely (albeit yet another one-shoulder Grecian style)
Alberta Ferreti
lilac gown: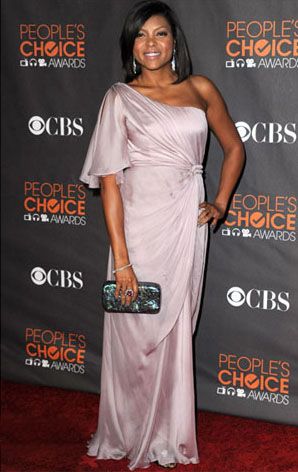 Despite a near-wardrobe malfunction during her acceptance speech,
Mariah Carey
showed off her womanly shape in a white
halter
gown: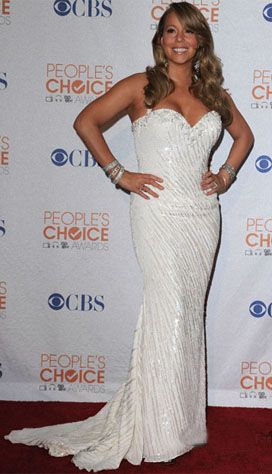 Finally, the sublime
Mary J. Blige
. Yes, she is in a one-shouldered draped Grecian dress, but the shorter length, shoulder embellishment, perfect fit and soft gray color make the look:

Feel free to comment upon my choices, but bear in mind, I am always right.
Worst Dressed coming up!
Ciao, Elisa & Bucky The Wonderdog