DAHLINGS -
As I mentioned in my previous post, my choices for
Best
and
Worst
were hampered by the sameness of the dresses, particularly the
plethora
of one-shouldered gowns. However, your faithful correspondent will not let her readers down. Here, in no particular order, are my
Worst Dressed.
THE WORST DRESS OF THE NIGHT
One star's outfit
leapt
out at me. It is amazing that
Carrie Underwood
managed to find a dress made entirely of chicken wire: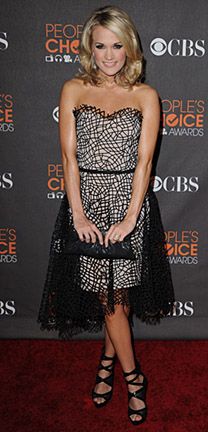 "OUCH, y'all."

And that strange bustle-thing; did it hurt to sit on? I only hope she wasn't badly scratched by evening's end.
FOR GOD'S SAKE, FEED ME A SANDWICH!
There was the usual swarm of hideously gaunt actresses, their fleshless arms and legs exposed by teeny frocks.
First, we have Taylor Swift (who apparently plays major league basketball in her spare time, minus the steroids):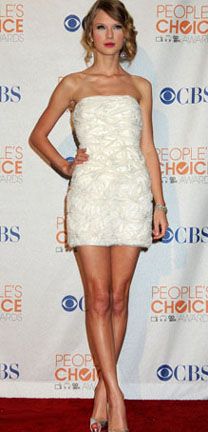 Jessica Alba looks as though nothing but vitamin water has passed her lips for the past six months. This dress was criticized on another site for making Ms. Alba's hips look big...er, big, if you're a praying mantis.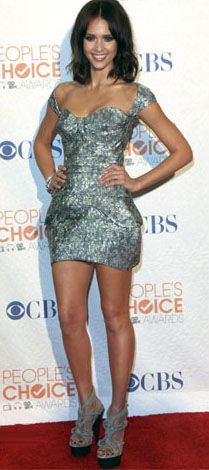 Diane Kruger is disturbing in Herve Leger: Even a sorry attempt at pouf doesn't make
Dana Ramirez
look any more female: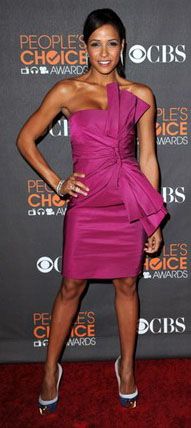 SPECIAL NIGHT OF THE LIVING DEAD AWARD
...goes to Nicole Kidman. Her pallor, skeletal appearance and immobile face (not to mention the flat, lustreless hair) suggest that she died last week, but was specially resurrected to attend this ceremony. I do hope they sprayed her with a great deal of Chanel #5 to conceal the odor of decay.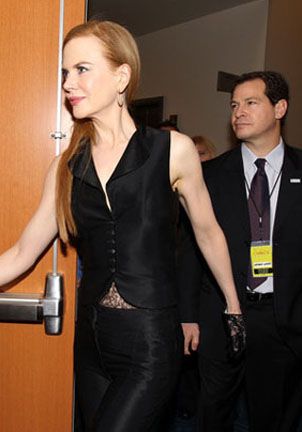 "I need brains. Braaaains..."
Whoever this young woman is, she may consider firing her stylist. The oversized, draped top is trying to be 80s and, unfortunately, succeeding. And pumpkin orange is not the new black.

One supposes we should be celebrating Hayley Williams's individuality, for her dress is neither one-shouldered nor draped. However it looks as though she is being attacked by a swarm of huge moths. Her stylist also might have suggested that orange is not the new black when it comes to hair, either.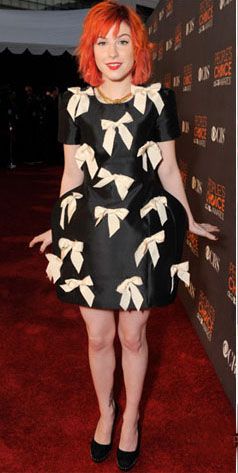 "This is tasty wool!"
This couple looks as glum as their outfits:
She: "Are we having fun yet?"
Finally, we have Sandra Bullock. Not only is her dress a color that washes her out, it is strangely constructed. It rather looks like the fabric was thrown at her and then basted where it landed. Fortunately, her recent box office successes have made Ms. Bullock able to afford a staggering amount of plastic surgery, leaving her face a waxen mask.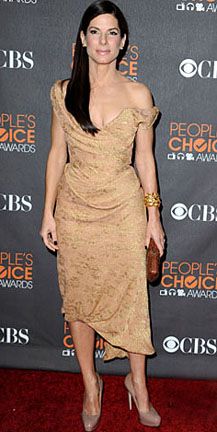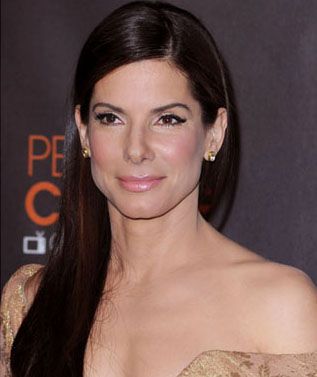 As I wrote before, this is my list, and feel free to leave your comments. But bear in mind that I am always right.
Ciao,
Elisa & Bucky the Wonderdog