DAHLINGS -
Of course, this award ceremony was overshadowed by the tragedy in
Haiti.
So some celebrities showed their support with a
ribbon
, as usual. This one yellow and red. It was also pouring rain. So the male hands and arms that are on the edges of some pictures are unfortunate
NBC
employees holding umbrellas to keep the famous dry.
This
Best Dressed
list is going to be longer than my usual, because I loved so many of the gowns that stood out from the overwhelming blandness. Bear with me.
First,
Meryl Streep
, who won for
"It's Complicated"
(co-starring...sigh,
Alec Baldwin
). Despite searching all over the Web, I could NOT find a full-length picture of her
beautiful
black gown. So here is the most I could find.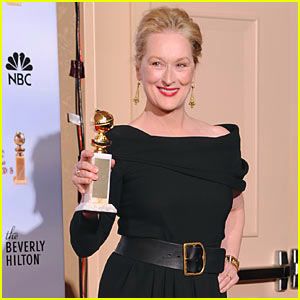 Next, a widely reviled
Zac Posen
dress worn by
Tina Fey
. Vintage-lover that I am, I found it
winsome
, and a nice change from the black dresses she typically wears to award shows.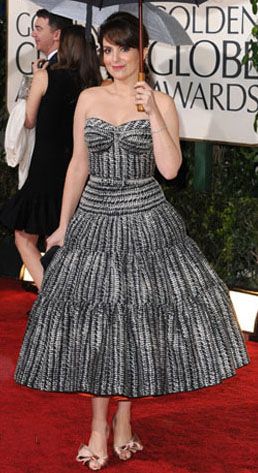 Next, we have the star of
Precious
,
Gabourey Sidibe
. Most designers have no idea how to dress larger lovelies, but
Kevin Hall
did a marvelous job.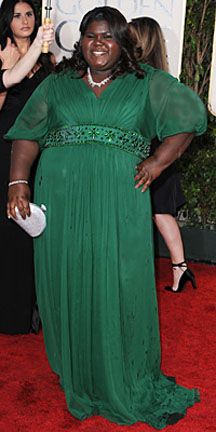 As
Reem Acra
did with
Monique,
who won
Best Supporting Actress
for her work as the abusive mother in
Precious
. It is a pity you cannot see the beautifully draped back!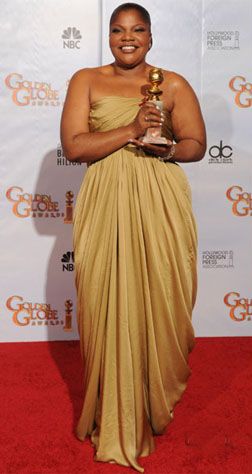 And here is
Monique
standing a
wee
bit too close to the recently deceased
Nicole Kidman
, who has no thought but to feast on
Monique's
brain. (There was a brief scuffle after this photo was taken, and
Monique's
brain was saved from zombie
Nicole
.)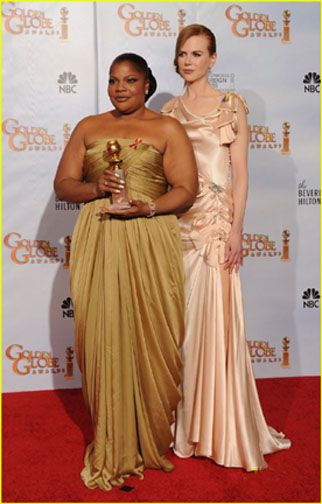 "Me want Monique's tasty brain."
"Get away from me, Nicole. You're drooling on my back."
And of course, the ageless
Sigourney Weaver
, stunning in green: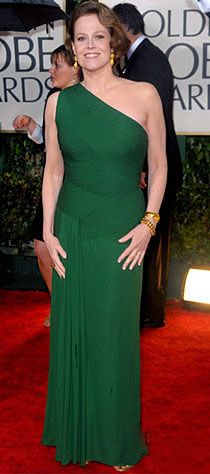 A surprise to your faithful correspondent was
Jane Krakowski
, who was simply gorgeous in purple!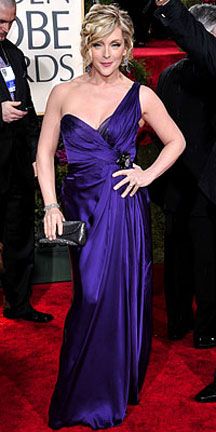 And I thought
Jane Lynch
looked fantastic in a zoot suit on
Glee
, but she was utterly gorgeous in this ultra-feminine gown: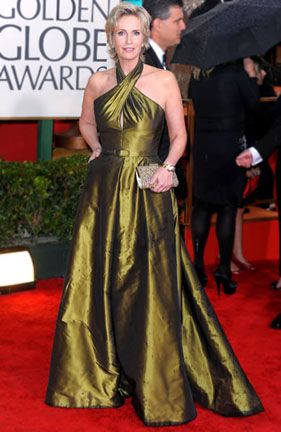 How could I forget
House's Lisa Edelstein
? She is always at the top of my list--well, nearly the top this time,
Meryl
beat out everybody else. Her silver satin dress fits perfectly!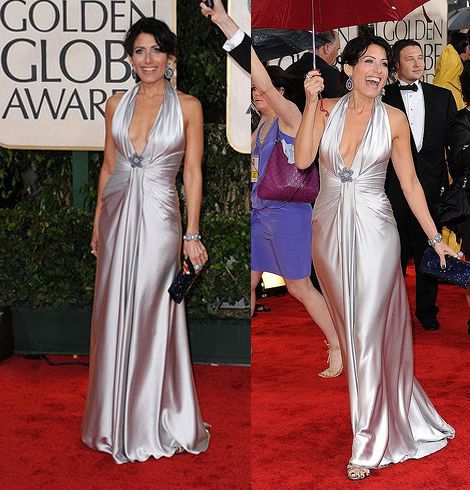 (It's a CRIME that
House
and
Hugh
Laurie
did not win!
DAMN YOU, CABLE
!)
But I digress. France's
Marion Cottilard
took one's breath away in, of course,
Dior!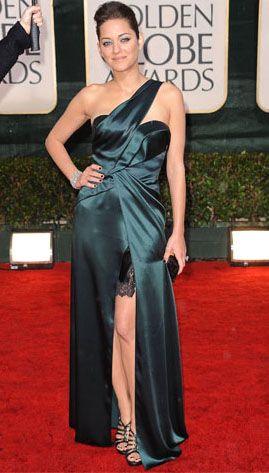 Jennifer Morrison
, late of
House
, exuded movie star glamour in this
Louis Antonio
gown. Although I am not a fan of ruffles, the way they were used in this dress was precision itself.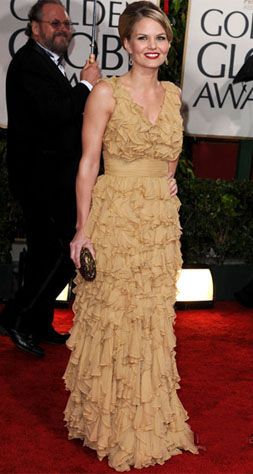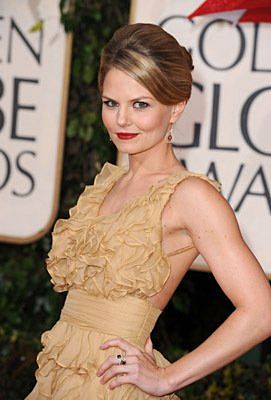 Perky little actress
Jane Adams
was simply adorable in this blue confection: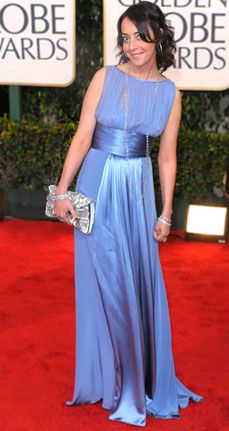 Christina Hendricks
always owns the runway, and once again, she does not fail to do so, showcasing her gorgeous figure in a gown by
Christian Siriano
. Take that,
Gossip Girls
!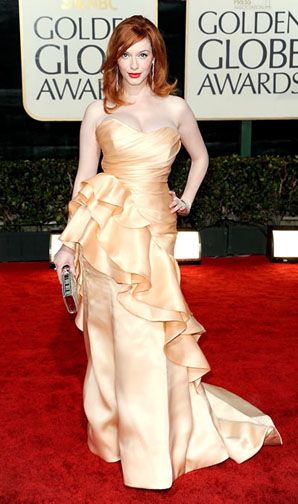 Thank you, ladies, for reminding us that actresses can still be women in this day and age. Readers, feel free to comment. But bear in mind I am always right.
Coming up next, a list in an entirely
new
category! The
Dullest Dressed!
Ciao,
Elisa & Bucky the Wonderdog