DAHLINGS -
As I said, there were
so
many choices I had to break this into two entries. This is rarely the case with award shows, but many celebrities seemed to have learned from their mistakes. And others knew what worked for them.
Case in point:
Jane Lynch
. This is
another
full-sweep gown, this time strapless and in a deep, rich blue.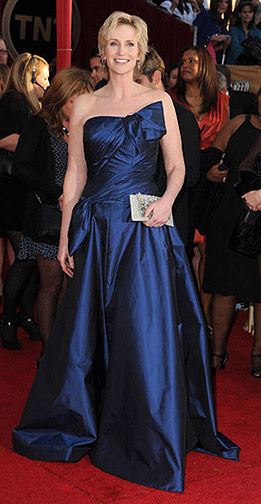 And speaking of learning from your mistakes, this time
Mariah Carey
chose to keep her bosom covered. Well, almost covered. Some fashion critics think her dress emphasizes her weight, but she is voluptuous and looks
gorgeous
that way. To those critics I say: eat a sandwich!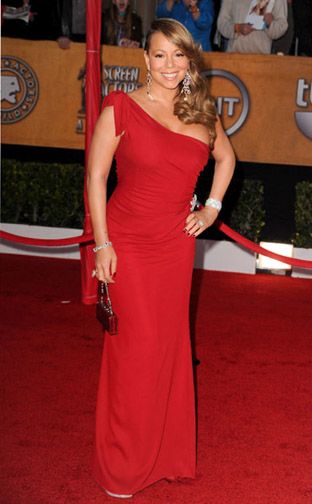 I simply
detested
that ruffly pink thing
Diane Kruger
wore to the
Golden Globes
, but this figure-hugging mustard gown by
Jason Wu
is the essence of old-style Hollywood.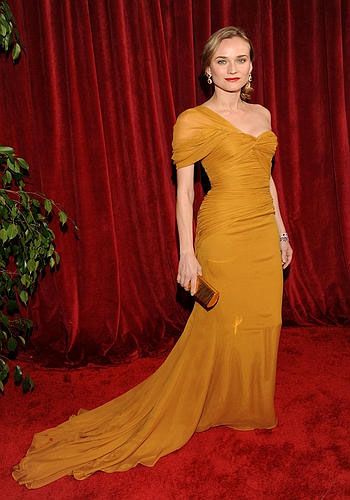 One of my favorites,
Christina Hendricks
, went for
Carolina Herrera
, in a bold red. My
only
cavil is the updo, which makes her head look just a tad small for her bold figure.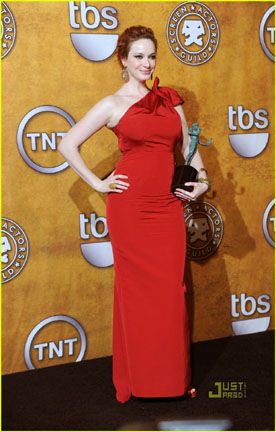 And another favorite,
Neicy Nash
, wore a conservative yet seductive black and white dress. This time the top fit perfectly, as did the rest of her gown. And the neckline allowed her to showcase her necklace. The yellow clutch doesn't go with the outfit, but who really cares?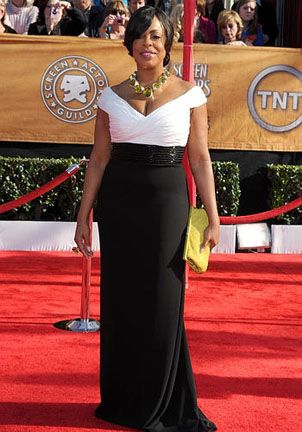 Despite being widely criticized for her black and white Golden Globes dress,
Tina Fey
did not go back to safe black. Instead, she opted for a
Salvatore Ferragamo
deep purple draped dress which suits her slim yet curvy shape.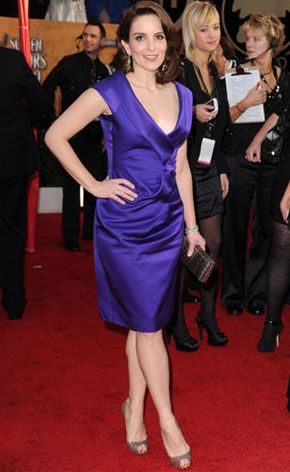 I'm a bit on the fence about
Julia Louis-Dreyfus's
dress, but on the whole I like the cut, if not the fabric.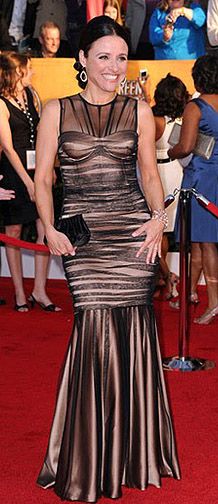 Drew Barrymore
always knows what to wear on the red carpet (no wonder, she's been walking it since she was a fetus). She does not disappoint in this blue tiered
Monique Lhuilier.
The tier is ringed by elaborate embroidery. However, I do wish
Drew
had worn some lipstick.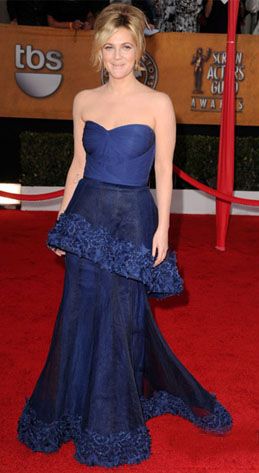 As much as I wanted to love it,
Gabourey Sidibe 's
dress did not flatter her as much as her
Golden Globes
gown. The ruching and color are
lovely
, but the cut of the sleeves sit strangely over the bosom, making this beautiful girl look slightly ungainly.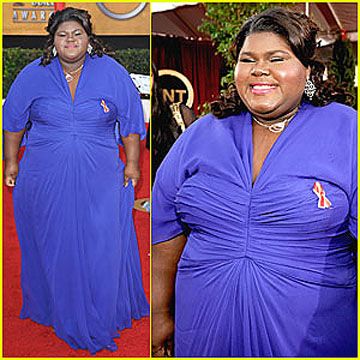 Now before you think I've gone soft on you, my faithful readers, later I shall post my
Worst Dressed!
Ciao,
Elisa & Bucky the Wonderdog