DAHLINGS -
I'm here at the
Nokia Theater
in
Los Angeles
live blogging for the
Emmy Awards
, and I have made an enormouss mistake: I bought one of those little notebook computers and I am typing this myself. The keys are tiny and typos are unaviaoldable. JHowever, I shall soldier on regardless. /////
Neil Patrick Harris
, in white tuxedo did an amazing opening number. We both lust after
John Hamm
, as what sentient being wouldn't?
Tiny Fey
looks absolutely
matronly
in that black dress and updo. She also is dressed the same as the Emmy presentation girls.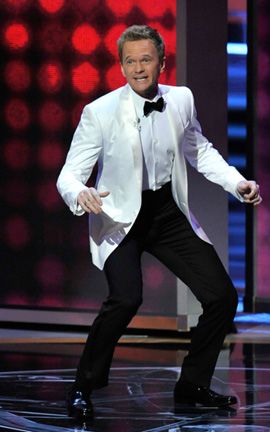 In an upset for Comedy Best Supporting Actress,
Kristin Chenoweth
won, wearing a crusty silver minidress and begging for a job.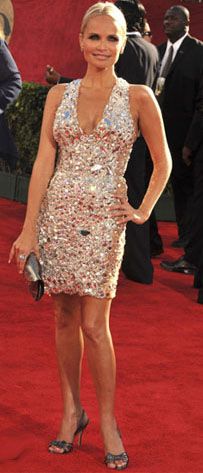 Except for the crusty silver drss, she reminded me of James Mason in "A Star Is Born" when Judy Garland wins hte Oscar.
I HATE THIS MACHINE!@
Sarah Silverman
is sporting a jaunty mustache, a nice change from the ubiquitous nude lip. It helps her give an icy glare to lead actress winner
Toni Collete
, who forgot to wear her makeup.
Oh, God,
Alec Baldwin
! Why does he want to look like
Rob Lowe
? You're mine, Alec, we're getting together at the
Entertainment Tonight
afterparty, never mind that blonde hag you're with! Of course you won, you are a comedy god. One hopes you will forget our unfortunate encounter in the air when I sneezed on your suede jacket shortly after the
Inauguration.
(Of course, as I wrote then, sober people remember
everything
, dammit.)
Project Runway
is up for an Emmy. DAMN!
The Amazing Race won
...why?
There is no justice!
At least the designers know how to do something, unlike 90% of reality television particiapnts! My BFF
Tim Gunn
was robbed! Robbed, I tell you!
Speaking of
PR
, here is a picutre of an incredibly pregnant
Heidi Klum
on the red carpet:
Oh, they're doing the miniseries...I'm heading to the bar for a Cosmo.
Later,
Elisa & Bucky the Wonderdog
Mon Dieu, what has Kyra Sedgewick have on?? It looks as though a fairy vomited on her.
SOme Frencyh actress is rasping through an acceptance speech...she sounds like she has a bellows in her generous bosom.