DAHLINGS -
It took a bit of doing to find women who were neither excessive nor simply idiotic in their choice of garb at Monday's
Metropolitan Museum Costume Institute
gala opening for
"The Model As Muse: Embodying Fashion."
However, there were some absolutely
stunning
choices. And while mine may not agree with everyone, I'm certain that my first pick is one of the winners across the board: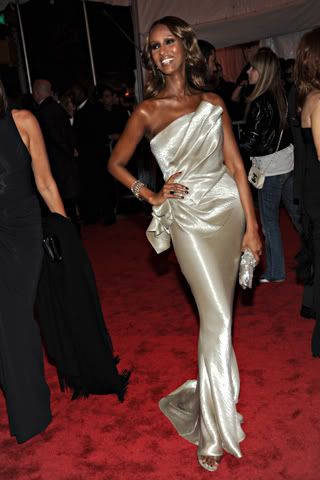 Imam
, who always displays the most amazing good taste, in a satin gown by
Donna Karan
.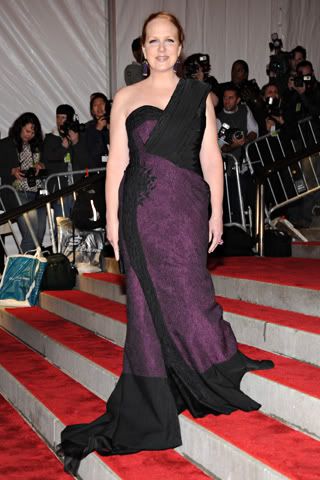 Anne Grauso
--so nice to see a
real woman
amongst the stick figures, in such a
beautiful
dress. If anyone knows who created it, please do
let me know!
(Although I am not a fan of skimmed back hair on high foreheads, but let's not quibble.)
Speaking of stick figures, I know that jaws will drop all over the world at my next selection.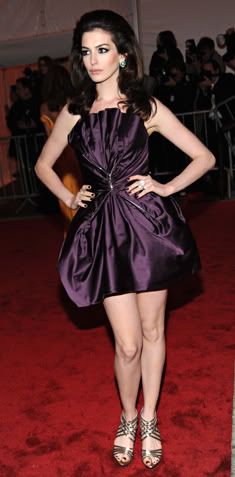 Anne Hathaway
covers up her gaunt figure in a wonderful purple dress by
Marc Jacobs
, with a 60s inspired bouffant hairdo that transforms her from princess to wild thing. In my opinion, it's a welcome change for her usual red carpet needing a glucose IV look.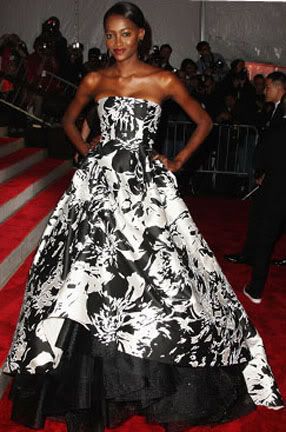 And how gorgeous was model
Oluchi Onweagba
in her (of course)
Oscar de la Renta
black and white ballgown? I MUST own this one ASAP.
Here is
Liv Tyler
working a
Jane Russell
look in a dark blue
Stella McCartney
gown with smoky makeup to match.
Speaking of old Hollywood...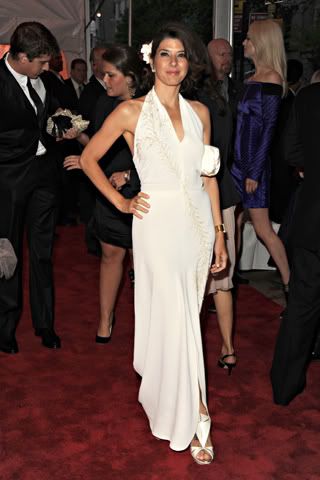 Special kudos to
Marisa Tomei
for wearing vintage
ADRIAN!!
She looks beyond beautiful, every inch the movie star. The designer would be so
proud
.
Sorry if there were fewer than expected, particularly at a fashion gala, but the truth is, there was less to choose from than I would have expected. For one thing, the
Omnipresent Silhouette
from the recent
Fashion Week
was everywhere: a tight waisted short dress with a bouffant skirt and overstated shoulders. Oh, there were variations...strapless, or one-shouldered...but not much inspiration, IMO. And yes, it looks beautiful on beautiful women, but how much effort does
that
take?
I also think I'm starting to suffer from Pose Fatigue. All of those
hundreds
of women standing in variations of two or three poses...hands on hips, hips forward, one leg forward, one hand on one hip...eventually they all start to blur together, dahlings.
Oh, dear, I really think I must lie down. Coming soon: entries about a new salon on the Upper West Side of Manhattan, Isaac Mizhari, and anything else I feel like writing about. It is my blog-thing, after all.
Ciao,
Elisa & Bucky the Wonderdog