DAHLINGS –
The
Metropolitan Museum
opened its latest costume exhibition,
"The Model As Muse: Embodying Fashion,"
last night with a gala co-chaired by
Marc Jacobs, Kate Moss, Justin Timberlake and
my idol,
Anna Wintour
, who was of course stunning in
Chanel.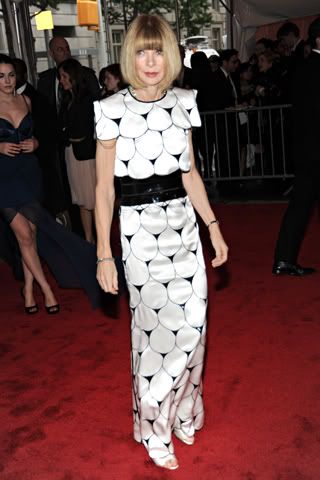 Kate Moss
embodied an unusual sophistication (for her), wearing a silver dress and matching turban. Here she is with the grand poobah of the evening,
Marc Jacobs
: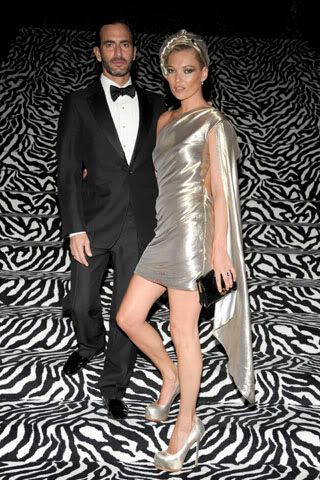 Inadvertently, the evening revealed to this intrepid reporter how fashion modeling has slid
downwards,
from spectacular women wearing beautiful clothes, to anorexic teenagers who can, for the most part, hardly be told apart. I
very
much doubt that the model wearing this fantastic
Fortuny
gown would have inspired the designer back in the day: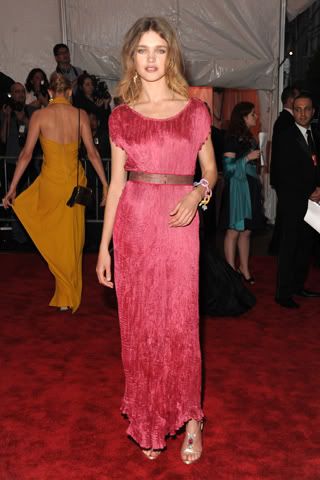 Look at that cheap bracelet, the mussy hair, the vacant expression. One might call this, "The Model As Mess."
Natalia
might as well be in jeans and a t-shirt, for all of the poise she displays. Compare the gorgeous
Cindy Crawford
(in
Versace
) to
Anja Rubik
: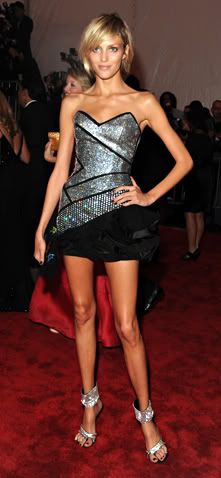 The model above is one of the best arguments for fat-grafting the thighs that I have ever seen. And note how, in the photo below,
Agnyss Deyn
and
Twiggy
seemed to have switched ages.
Twiggy
looks young and fresh, while her compatriot looks haggard.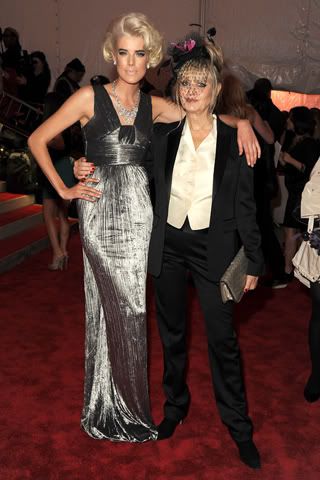 There were two disturbing fashion trends seen on this evening (excluding
Madonna
). The first was high-low hems, which are reaching new extremes this spring.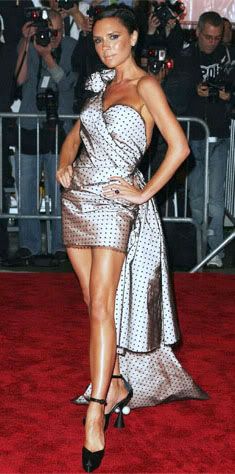 Victoria Beckham
, replete with a spray-on tan that would put
Valentino
to shame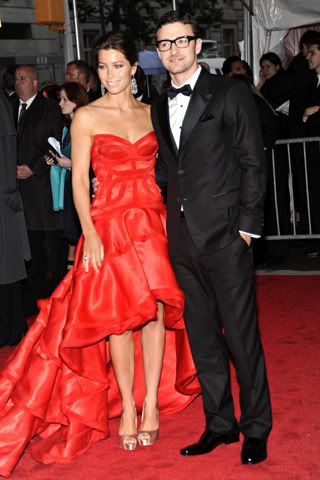 Jessica Biel
, who just cannot get the
hang
of this red carpet thing, also replete with spray-on tan.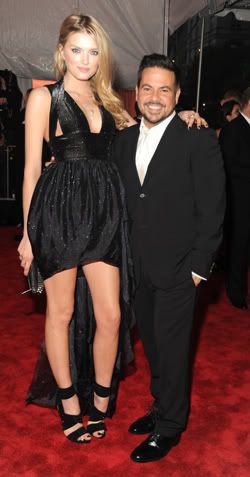 Narcisco Rodriguez
with some young unfortunate wearing his creation
The second was my personal
bete-noir
, pardon the pun,
neutral
tones. I am only showing a few out of the
HUNDREDS
of beige, pale pink and faintly tan gowns last night.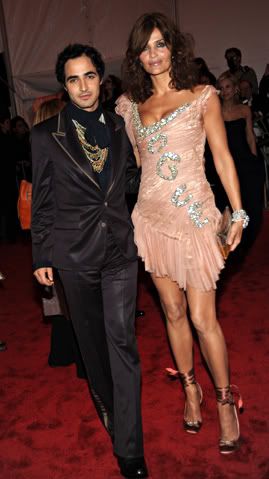 Zac Posen
with a model wearing his dress that spells VOGUE across the front. As first I thought it spelled MCGOO but a friendly journalist pointed out my mistake.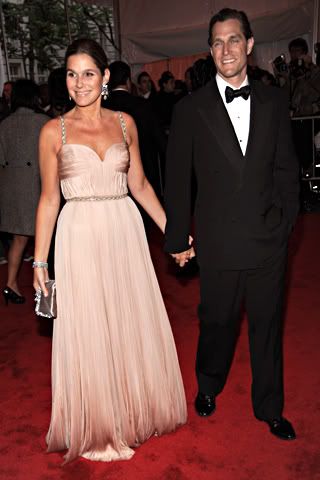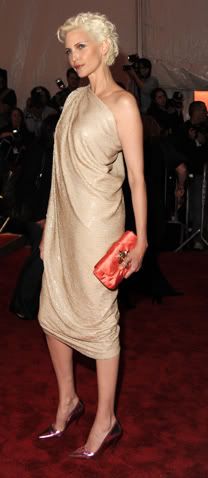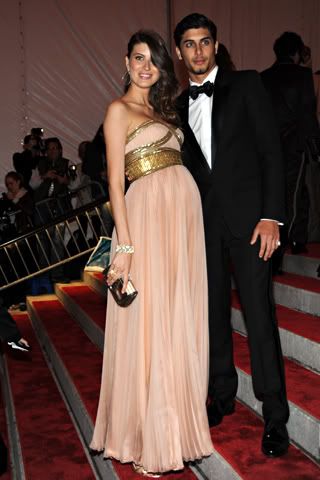 Ashley Olson
arrived to announce that she is soon to be taking the cloth, and was appropriately garbed as a novice nun: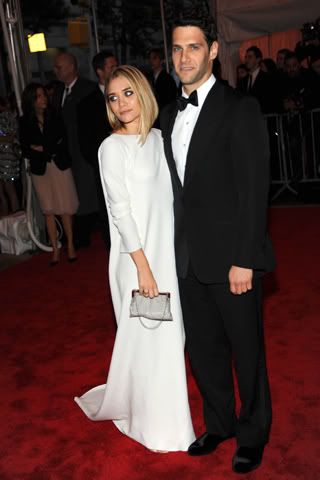 And somehow I believe
Amy Winehouse
staggered in: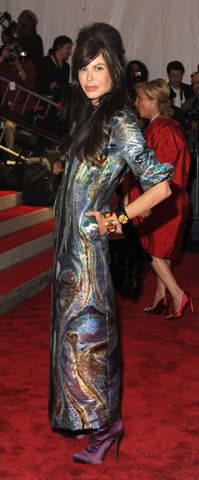 Debbie Harry
showed up, whimsical as ever, in her pajamas.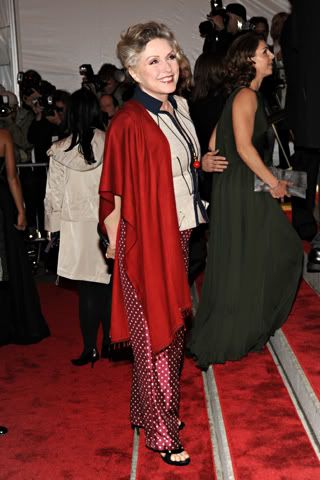 And then there was
Carmen
, one of the most ageless models of them all, splendid in leopard.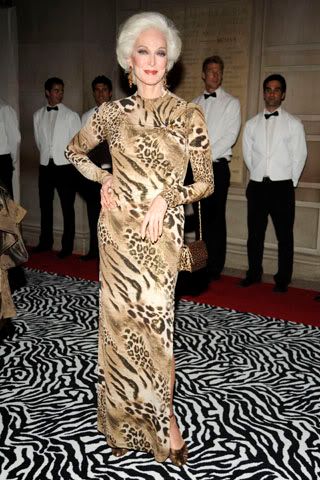 One of the surprises, to moi, was how well most of the designers themselves looked.
Donna Karan
, usually a fashion disaster, wore this tasteful, flattering gown: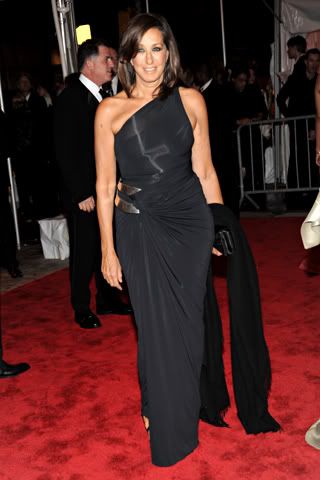 Diane Von Furstenberg
always looks lovely, but this was especially chic: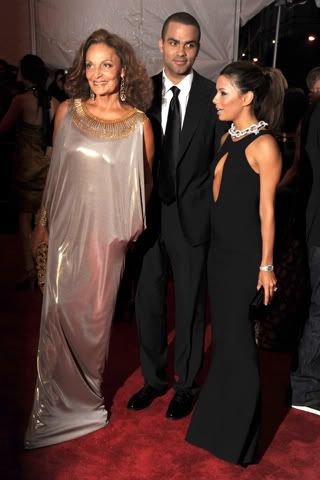 Standing nearby is
Eva Longoria Parker
and the underside of her breast. Ironically, television and movie stars are far more often gracing the pages and advertising of fashion magazines than models, and so, many came out for the extravaganza. My dear, dear friend
Donatella Versace
stepped out in a dress of her own creation.

While I adore this gown, I must confess it seems that
Donatella's
face might be sliding off. Lay off the anti-aging treatments,
Donatella!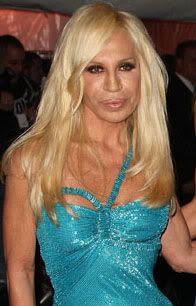 And what fashion event would be worth its salt without my other dear, dear friend,
Andre Leon
Talley
? I don't know who designed his outfit, but doesn't he look like an English barrister without the white wig?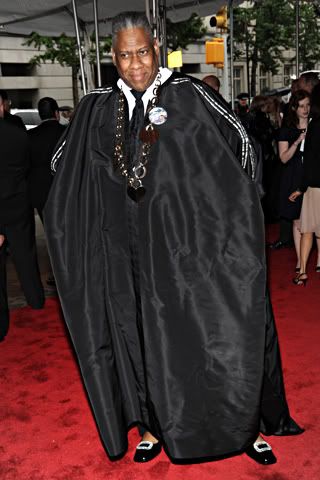 More later, dahlings!
Ciao,
Elisa & Bucky the Wonderdog