(This is Mademoiselle's assistant…she's left piles of notes, text messages, and Twitters for me to decipher because she's been too busy to write this blog. How does she expect me to keep up with everything? It's not like she pays me that much, and she makes me account for EVERY CENT of petty cash at the end of every week, even if it's 2 AM on Sunday. Sorry, but I am so tired…and Mademoiselle's expecting me to lay out four more outfits for the next two days…somebody kill me…maybe I'll put a tack in her boot…anyway, here we go from last Friday.)
The shadow of
Michelle Obama
has been hovering over this February's
Fashion Week
. Even the most outrageous designers so far have been toning down their approaches, giving classical twists and turns to formerly avant-garde wear.
For example,
Yigal Azrouél's
show simply amazed me. As my loyal readers know, he is well-known for his
drab
, shapeless garments, devoted to inspiring depression in the viewer. What has
happened
to the man? Yes, there were a share of those pieces, but many of them were pared down, fitted, even, dare I say it, sexy. And there were
colors!
(All photos below by Marcel Madiera)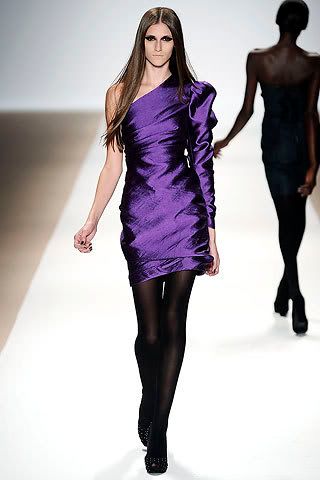 I almost fainted, but then I would have fallen over onto
Julia Stegner
and probably been ejected. So I popped a chocolate instead.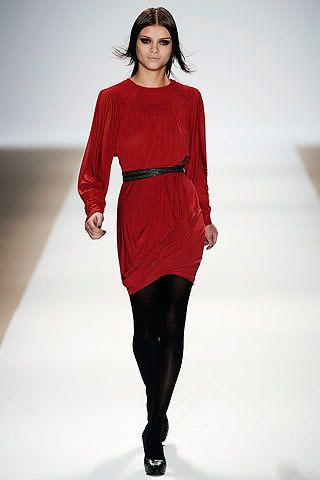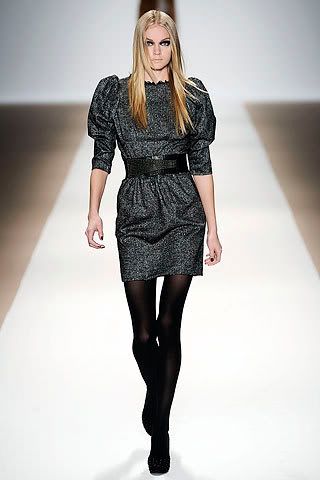 A common silhouette at many of the shows this week was the short, fitted dress with a strongly defined waistline and often equally defined shoulders. Much of
Charlotte Ronson's
collection featured that look, which happily mentioned referencing wartime vintage. There was also a strong 1980s influence, which one
cannot
escape these days.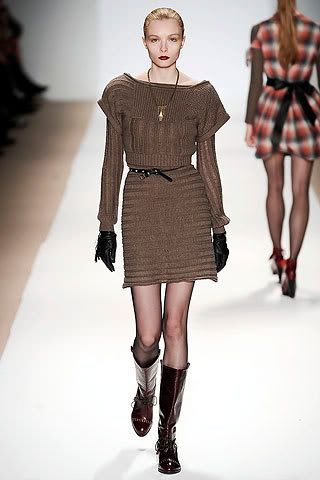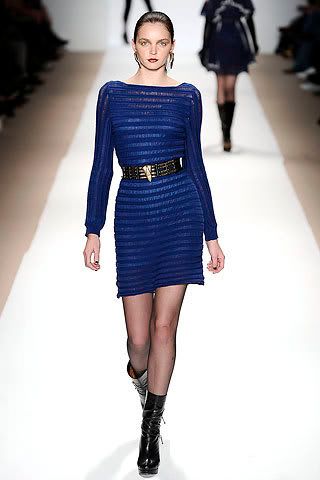 This
misstep, however, looked like vintage that had been hanging in a screened porch for several decades. One could almost smell the mold.
As expected,
Nicole Miller
presented exquisite clothes, both dresses and separates. This was her presentation of The Silhouette, which dominated her collection: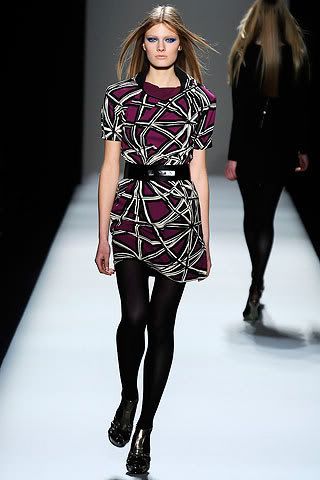 I've ordered this one for myself (just slightly longer). I am sure
Michelle
would approve.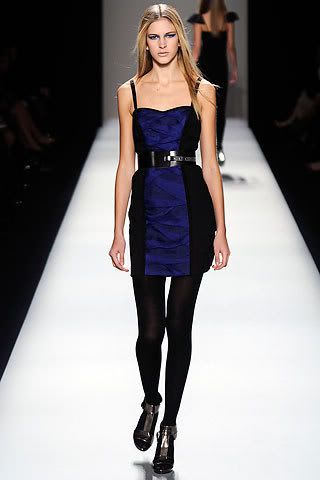 On Saturday,
Valentine's Day
, I simply could
not
bring myself to attend
Barbie's Runway Show
. Some people might think of me as a fashion whore, but every prostitute has her limits, and
this
was the fashion equivalent of asking to kiss me on the lips.
Part of it was the thought of clothing inspired by that
hideously
insipid Aryan doll in the first place, the other was the idea of bone-thin models trying to fill them out, when all they had in common, figure-wise, was the
ludicrously tiny waist.
The final blow was that the tent would be filled with shrieking little girls (
ugh).
According to the
Wall Street Journal:"The show was a celebration of "all things girl," said Richard Dickson, general manager and senior vice president worldwide for Mattel, noting that it was part of an ongoing marketing campaign to strengthen Barbie's
[sic]
relevance."
Too late!
However, I will share this one photo with you, from the Associated Press: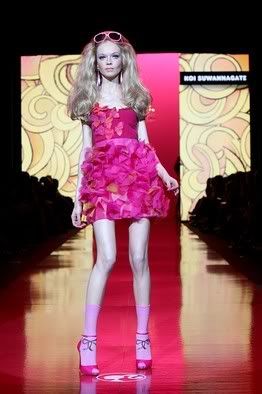 Hmmm...I never knew they had released a
Starvation Barbie.
Put her back in the box, I say!
Ciao,
Elisa & Bucky the Wonderdog