DAHLINGS –
Fashion Week
is over
at last.
I am having to write this blog-thing myself. I
cannot
reach my assistant,
damn
the woman. I've had no rest at all, I tell you, no rest at all, and neither has
Bucky.
In a rare moment of confession, I have to tell you that
Cathy Horyn's
article in
The New York Times
yesterday (
http://www.nytimes.com/2009/02/21/fashion/21REVIEW.html?_r=1
) sums up much of my thoughts. I was not allowed into
Marc Jacob's
collection, I shall not lie to you. Your high opinion of me means too much.
Your faithful correspondent enjoyed
Ralph Lauren's
collection more than
Ms. Horyn
, but I am a bit more of a traditionalist than that fine critic.
(All photos by Marcio Madeira)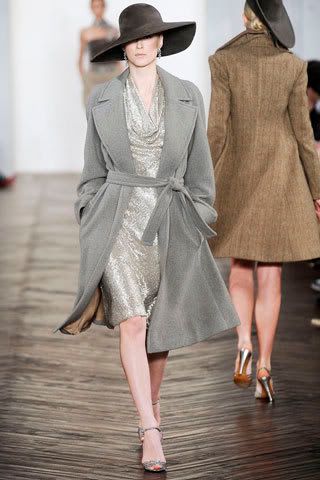 Note that this one example of the
Omnipresent Silhouette
(above) is covered by a gorgeous coat!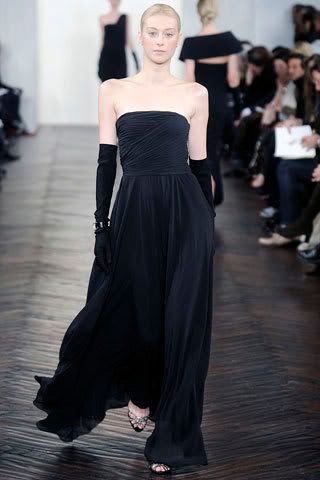 And yes,
Francisco Costa
of
Calvin Klein
knocked it out of the park for yours truly.
Cathy
and I are in agreement. Creativity and elegance, my favorite combination.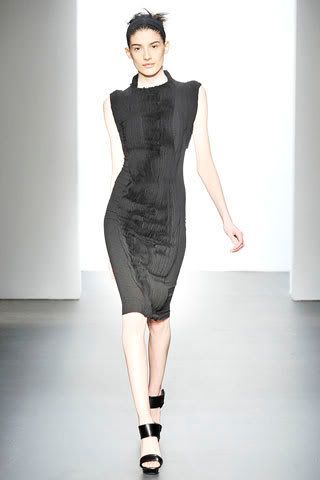 Although even the great
Mr. Costa
could not resist the lure of the Silhouette...I was asked repeatedly what it means: youth, hope, optimism? To tell the truth,
mon cher lectuers
, I have not the foggiest idea. But that's fashion. Silhouettes happen.
More later,
Elisa & Bucky the Wonderdog