(This is Mademoiselle's assistant—I caught hell for writing about putting a tack in her boot. Jeez Louise, I've gotta watch what I write when I'm this tired. At least Fashion Week's over, she's snoring away in the other room, and I'm playing catch-up with all of her notes. Tomorrow I'm sneaking home and turning off my phone, Blackberry, and computer, before she drives me BATTY!)

DAHLINGS –
On Tuesday, I decided to go off the beaten track, weary of the endless milling and waiting at
Bryant Park.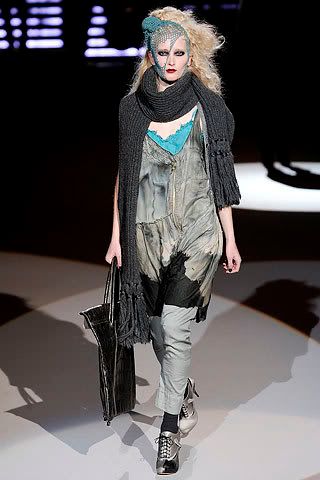 (photo by Marcio Madeira)
I simply had to duck out of the
Diesel Black Gold
Show (
ugh
), and travel all the way over to Seven On Seventh, a fashion show of up and coming
African-American
designers.
Dahlings, what a treat! The first designer was
Mad Couture
(
Madilyn Wade
), a "full figure" designer who makes MAGNIFICENT clothes, and quite daring! For instance, this cotton/Lycra black and white print dress, and on the right, a frock with a re-embroidered sheer lace top and a neoprene skirt, "mermaid" style.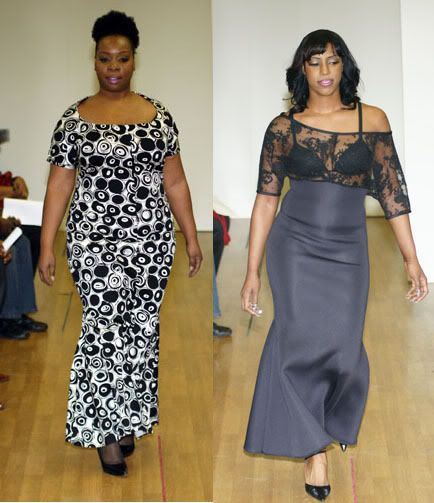 One could imagine wearing the one on the right over a bright pink demi bra to
great
effect (or nothing, if one is inclined that way and one's breasts are high enough).
This dress had quite a surprise in the back!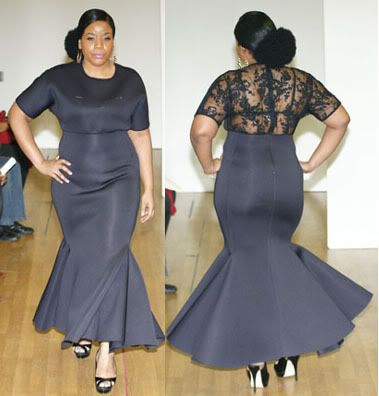 And the
models!
All
shapes and sizes, most of them plus, walking with sensual pride in their bodies. For the boudoir, this beauty in stretch lace with black leaf trim.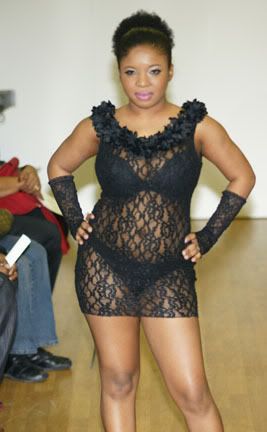 At the end,
Madilyn Wade
came out with some of her models in more daring creations: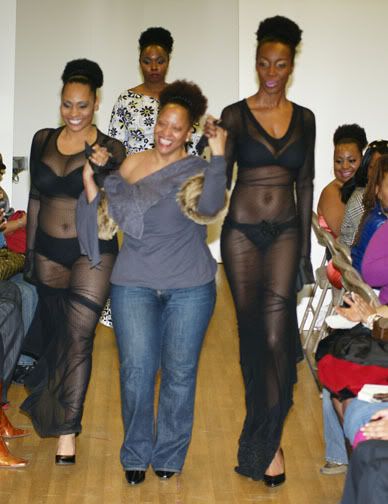 (Photos by Wayne Summerlin)
This is a woman after my own heart,
mon cher lecteur
.
Madilyn's
dresses are
très chaud
, graceful, and beautifully made.
The next designer was
Joy Lee
of
Ayo Lee Couture
. The show began with a sensational drag queen dressed as Lena Horne lip-syncing to "Stormy Weather." (I confessed, I eyed her shoes enviously.)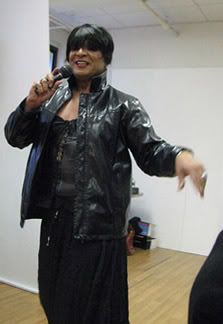 The designer showed a mix of fabrics, including an evening dress made of white upholstery fabric shot through with gold thread, and a marvelous denim jacket over a wool tweed skirt with a red selvage hem. My apologies for the photos, dahlings.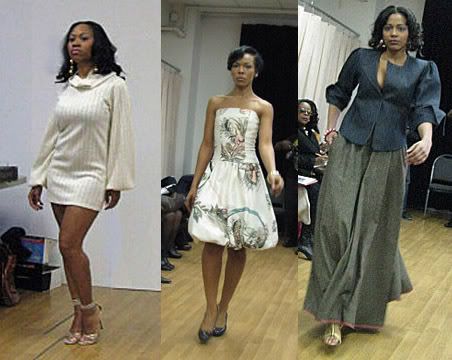 There was also a green tweed dress with a huge gold collar and back pleats that caught my eye, and a leather top with deliberately unfinished edges paired with a flowing denim skirt. When the lovely young designer herself appeared (in the center in the last photo), she was garbed in a lavender dress, also made of upholstery fabric.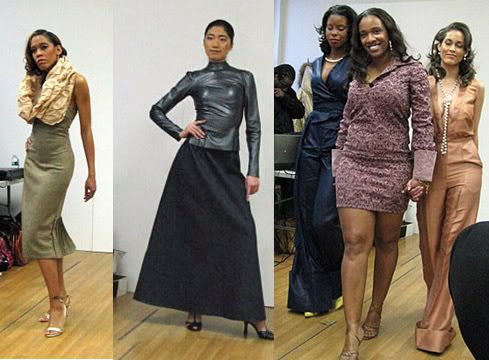 It was clear that this was a young woman who designs for women with
real
bodies, which was SO refreshing after seeing all of the hideously gaunt models under the tents at
Bryant Park.

At the other end of the room were several
captivating
women, whom I could not help approaching between shows. Not shown is
Dolores
, a banker who works with the fashion industry, but from left they are
Michelle
,
Jinji,
a model/actress/lifestylist, and
Ria Kimber
, a producer.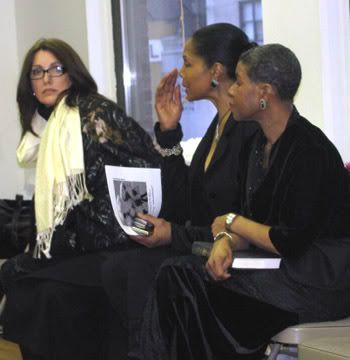 Unfortunately, before the next show began, I had to dash for a date for cocktails with a gentleman friend. Would this week
EVER END
, I ask you??
Ciao,
Elisa & Bucky the Wonderdog
(All photos by Elisa DeCarlo)