DAHLINGS,
Is it
moi,
or was the
Herve' Leger by Max Azria
show on Sunday as dull as calculus class on a rainy fall afternoon? One could almost feel the dank closeness of the wet classroom, the eyes slowly closing as one fights to keep awake over the unreadable textbook. A parade of dreary bandage dresses made their way down the runway (although starlets
January Jones
and her ilk seemed to love them). For once, the models' forlorn expressions matched the clothes beautifully. And of course, there was the Silhouette: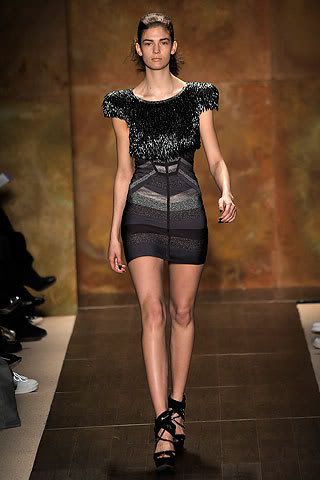 Photo by Marceil Madiera
On the other hand,
Diane Von Furstenberg's
"Nomad" collection was a sumptuous parade of textures and colors. The tent was absolutely packed with celebrities and fashion glitterati, including
Diana Ross
, who the press insists on calling "ageless." I prefer "drinks the blood of young male virgins at the full moon." Really, what is going
on
with that woman? Note the expression on the face of her seatmate. Surely she wonders too.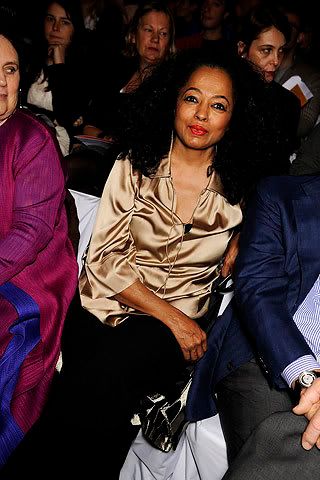 Photo by Greg Kessler
However, her music on the soundtrack was a wonderful choice. My idol, Anna Wintour, was there, next to a gentleman whose hand looked like he'd gotten the worst of a battle with
Bucky,
my miniature pinscher.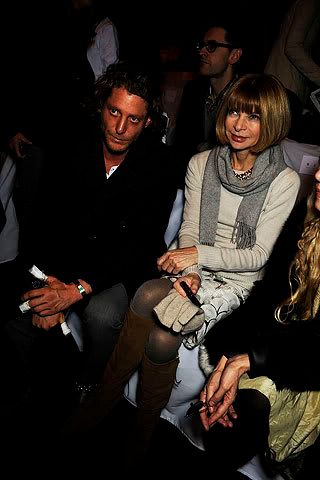 Photo by Greg Kessler
But I swear, we were on the other side of the aisle!
Bucky
was nestled in his favorite oversized
Dooney & Burke
carrier, which matched my
DVF
ensemble perfectly. Other than some startled barking when
Charlie Rose
bumped against his carrier (
what
was
Charlie Rose
doing there?), my little darling behaved himself perfectly.
Back to the clothes—your faithful correspondent does not know which she enjoyed more, the variety, the lack of The Omnipresent Silhouette (although the first one comes very close), or the comparative sprightliness of the models. Although their utter lack of thigh flesh continues to distress me.
(All photos by Marcel Madeira)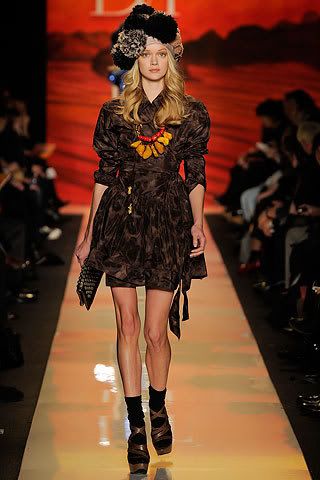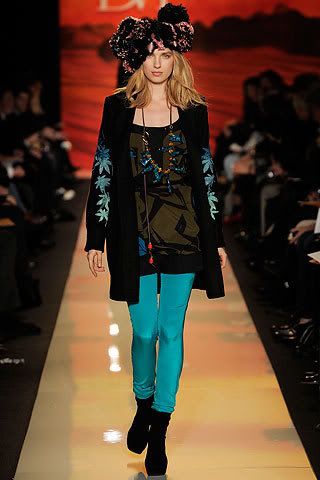 This dress was my absolute favorite, of course; what can I say, I'm a fool for satin.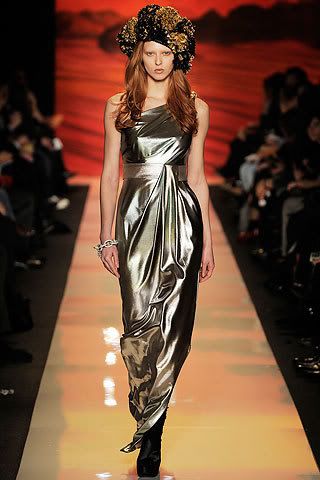 It was the only show that one attended that did not somehow have a whisper of fear around it...the economy is quite definitely changing the tone of
Fashion Week
, and it is not for the better. Oh, dear, that is a Deep Thought, and those always give me headaches. I shall have to stop here for the nonce, and go leaf through
Details
magazine.
Ciao,
Elisa & Bucky the Wonderdog