DAHLINGS -
I'm having a very small gathering at my
Central Park West
aerie. Having the
Oscars
come on the heels of
Fashion Week
means that those of us who cover fashion are tending towards
complete
exhaustion. Much easier to have the cook make a spread of finger food and hire some bartenders than go out!
We are having a most
enjoyable
drinking game: having a drink every time an actress appears wearing a one-shoulder gown. But, if I had kept on after
Marisa Tomei
(in
Versace
),
Nancy O'Dell
and
Heidi Klum
, I would not be able to dictate this blog-thing.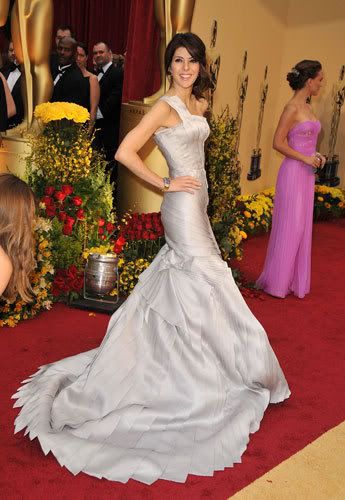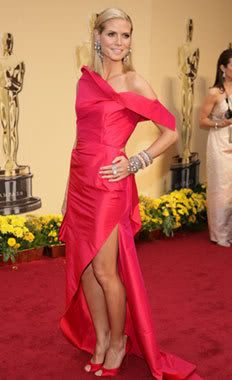 Heidi
is wearing what appears to be folded construction paper, by
Roland Mouret.

(My assistant is
still
unreachable, the little idiot, so I had to force the chambermaid to do it. What is WRONG with the working class these days? Isn't it enough that they have JOBS? But I'm wandering off topic...must be the
Moet Chandon
combined with the bare shoulders.)
Tim Gunn
kicked off the evening (network-wise) on the red carpet, gushing over
Kate Winslet
and her beautiful
YSL
shoes and gown. Everything about Kate is
superlative
, and my guests agree. Oh, dear, one shoulder, time for another glass of champagne!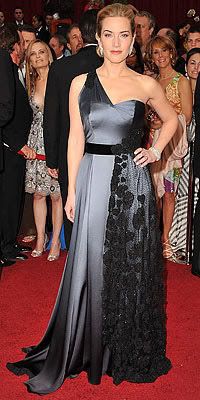 For once
Amy Adams
is wearing color! A striking
Carolina Herrera
gown. However, referring to her necklace, my male companion just remarked, "I don't know if I like it or I want to eat it." (I think he meant that it looked like hard candy.)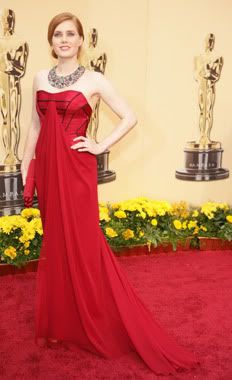 Queen Latifah looked magnificent in Georges Shakra, with Swarovski crystal trim.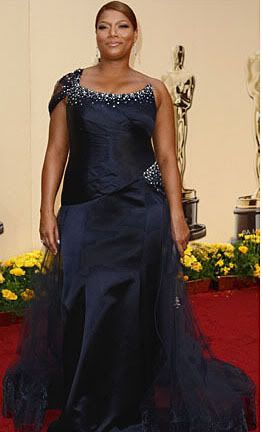 Oh, it's one shoulder, I must resist or I will never get through tonight...

Sarah Jessica Parker arrived with her rather queasy-looking husband, Matthew Broderick, wearing what appeared to be brand-new breasts and a rather beat-up old vintage prom dress with a large crinoline:



She claims it is Dior Haute Couture, but I refuse to believe it.

Hugh Jackman's "low-budget" opening number was hilarious, and he is one yummy hunk of man (no, you little fool, don't put that in! My male companion doesn't like it!).

A new protocol is being introduced with Best Supporting Actress: a past winner came out for each nominee, including Goldie Hawn (who has apparently visited the same surgeon who gave Marisa Tomei and Sarah Jessica Parker their new breasts). Be grateful you cannot see this in close-up. The contrast between the brand new bosom and the neck and chin above it is jarring, to say the least. Perhaps Goldie should grow a beard. And why couldn't she spend a little time getting a dress that fit?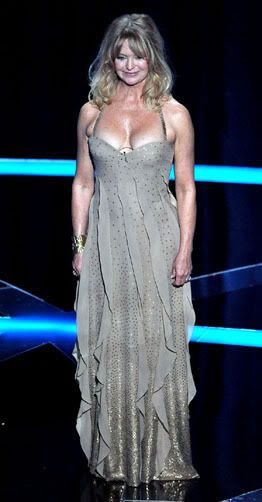 Tilda Swinton is wearing a brown paper bag over a knotted front black skirt. Ack. Penelope Cruz (in vintage Balmain) is the winner; I still maintain the woman has a face like a foot. Whoopi Goldberg is wearing a leopard-print shower curtain. One supposes she was in a rush.

OH MY GOD--THE CHEF TOOK ADVANTAGE OF THE MUSICAL NUMBER TO TRY TO SNEAK SOME COSTCO PUFF PASTRIES ONTO THE BUFFET! Je dois prendre soin de ce à la fois!