Entering
Tziporah Salamon's
apartment is akin to entering an opulent grotto, filled with tapestries, adornments, pictures…Asian, Turkish, 1920s: something to feast your eyes on
everywhere
you look. As
Bucky
and I lounge on a divan covered with a "suzani," a spread from Uzbekistan, and many cushions, gazing upon shelves of books, purses, and
incredible
hats,
Tziporah
enters her sitting room like a creature from another time and place.
She settles me in with a cup of green tea and a dish of figs and dates, and shows me pictures from her life. My eye had been caught by a student ID saying
"Lynn Salamon."
After the family moved from Israel to America when
Tziporah
was nine, "The other kids made fun of me because of my name," she says. "The most popular girl's names were Linda and Susan. Susan? No. I wanted something more sophisticated. So I chose Lynn. I told everyone, my name is Lynn now." Tziporah uses the word "sophisticated" a great deal, and it suits her.
She handles her body like a dancer, wearing a black fringed tunic and matching fringed pants, barefoot with red toenails that match her red lipstick. Her brown hair is cut short, the better to go under the tight small hats she favors. Sitting on the floor, Tziporah shows me photographs as she narrates her life story, which will be explored in more detail in a later entry.
Speaking of which, that life story is going to be PERFORMED by
Tziporah Salamon
as
"The Fabric Of My Life,"
which is described as a "sartorial autobiography in which she uses stories, anecdotes and costume changes to tell the story of her life in clothes."
The performance will be
one night only
at one of the most
glamorous
shops in New York, the fabulous
Off Broadway Boutique!
Mark your calendars, readers:
Friday November 14th at 6:00 PM
.
Admission is
FREE,
and not only that, wine and cheese will be served. The audience is invited for an evening of fashion, fun and
shopping.
It is located at 139 West 72nd Street. The web address is
http://www.boutiqueoffbroadway.com/
, so you can take a look at some of what they have to offer. RSVP to:
boutiqueoffbroadway@verizon.net
.
You can trust
moi
when I say that
Off Broadway
has some of the most
marvelous
things in New York, including designer and vintage clothes and jewelry. I will
certainly
be in attendance.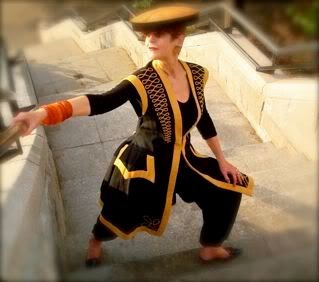 Tziporah has (like
moi
) been profiled in
The New York Times
, and was the "star" of the April
Manhattan Vintage Show
(cf. my earlier entry) where we first bonded over her matchless style. She is also a favorite subject of
Bill Cunningham
, the street fashion photographer of
The Times.
Her website is
http://www.tziporahsalamon.com/
.
With her father a tailor and her mother a seamstress,
Tziporah
was born into a family where clothing was the focal point of existence. Another entry will be coming soon about her life and style evolution, and most important, the
clothes!
Oh
mon Dieu
, the clothes! I've seen them in person, and I'm still vibrating with desire. The coat shown in the last picture is from the
Ottoman Empire
. Among her enormous hat collection are hats from
Dior
, innumerable 20s beaded cloches, and
many
small ethnic embroidered hats from throughout the century.
Treat yourself to her matchless style and make sure that you come to
"The Fabric of My Life
." It is a chance to see a woman like no other in a setting where you can drink for free and shop as well. Can life get any better?
Well,
George Clooney
could be there, but a girl can't be too
greedy.
More to come about
Tziporah
soon!
Ciao,
Elisa & Bucky the Wonderdog
Photos by Carole Cutner