DAHLINGS -
One casualty of my
busy
life (along with my sanity), has been keeping up with current events. No, no,
not
politics
, that will have to wait until the truly important matters have finished--
FASHION WEEK!
The blog "StyleIt" has entered a whole new level of blogging, as author
Sarah Conley
, a luxuriously sized woman, is making a documentary about her experiences at Fashion Week!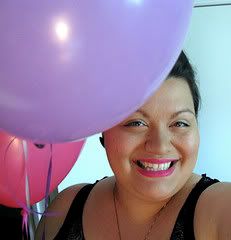 Titled "On The Plus Side," both video and written entries are being downloaded daily, at:
http://styleit.onsugar.com/
Unlike
moi,
she is slightly lacking in self-confidence, but has a wonderful camera presence, a delightful sense of humor, and great courage. Here is an excerpt from the "On The Plus Side" home page:
The experience is designed to empower and motivate women to embrace their figure, no matter their size. Being 6'2", and a size 26 with size 12 feet, Sarah has always felt out of place due to her size. Now, as a professional in the fashion industry, she faces a new set of challenges relating to body image and self confidence. Her daily videos will approach the issues related to being a fashionable fuller figured woman in an industry obsessed with being thin. Additionally, she plans to help empower every woman by showing them that they too can be a fashionable, confident and well put together woman.
I urge my readers to bookmark this site and follow Sarah's adventures in Fashion Land. (And of course, this one, too!).
Ciao,
Elisa & Bucky the Wonderdog