DAHLINGS -
I am taking a moment from my
unending
work (I'm nearly hoarse from screaming at my assistant, the fool), to put up a few pictures of some more of the goodies I will have on display at the
Manhattan Vintage Show
on October 10th and 11th here in New York City!
First, this wonderful
Gucci
travel bag, with the ORIGINAL sales tag inside! As you can see, poor Bucky has also been working his little paws to the bone (mostly nipping at my assistant's ankles if she doesn't move fast enough).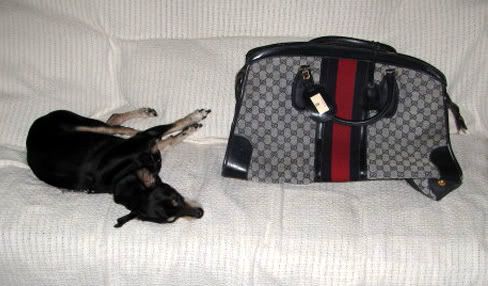 SOLD!

Second, a vintage wool boucle' coral-colored wool coat with huge
pink
novelty buttons, size XL:
Third, another
amazing
reversible coat! This swing coat, from the 1940s, reverses from a plaid double-breasted coat to a solid bright green clutch coat! (Forgive the photos, my assistant took them.) Size M:
This vintage 1980s
Michael Kors
wool dress, size 4:
And to end with
Gucci,
this beautiful
Gucci
lightweight wool coat, also 1980s, with a hidden button placket and impeccable tailoring, size 42:
Remember, dahlings,
save the dates!

The Manhattan Vintage Show at the Metropolitan Pavilion
Booth #17/18 MATINEE NEW YORK & THE MAD FASHIONISTA
125 W.18th Street, between 6th and 7th Avenues in Chelsea
New York City
Friday: 10/10 1-8 pm
Saturday: 10/11 11am-6pm
Admission: $20*
Ciao,
Elisa & Bucky the Wonderdog
*5 off admission if you go to the website,
http://www.manhattanvintage.com/
!