This is Mademoiselle's assistant, transcribing her notes from her Iphone. Yeah, there's nothing I'd rather be doing right now after midnight on Sunday than be stuck in the office while she's out seeing all the big celebrities and those beautiful models—what is her problem with them?? Anyway, here's what she has sent me so far. It broke off kind of abruptly, but she says there's more.

DAHLINGS –
It's only day two of
Fashion Week
, and already a disturbing trend has shown itself. No, not the extreme gauntness of the models, that is a
given
in these times. The fleshless arms, the huge spaces between their nonexistent thighs, the gurgling of their stomachs from hunger; all commonplace. Not even the occasional fainting spell makes the jaded spectators turn their heads.
But for reasons known only to themselves, many designers are playing up the models' resemblance to survivors of the
Holocaust
. For instance: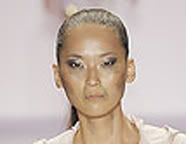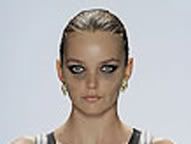 Need I say more?
It did
not
help that the first show I attended, all the way down on 21st Street, was the dependably depressing
Yigal Azrouel
, who showed this: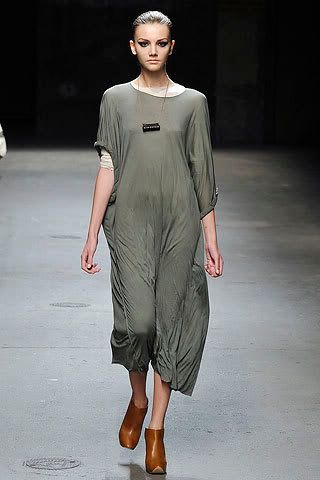 Marching off to the labor camp, one assumes. And really, did one need to start one's day seeing
THIS?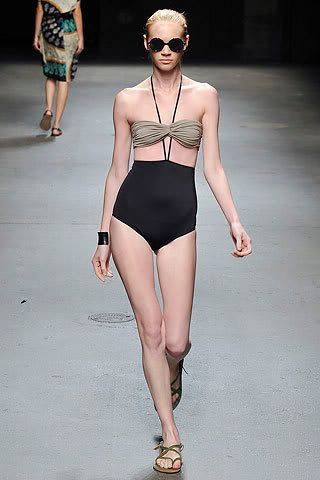 Give the poor thing some pencils and a tin cup, I say.
I dashed out of Nicole Miller's show early to cunningly sneak in to the Erin Fetherston show (one is loathe to admit that one is officially banned for pelting a model with bonbons a season or two ago). As it happened, I was dressed in a stunning ensemble by Ms. Miller, and as always, had my loyal companion Bucky with me, today in an exceptionally large Gucci tote. (On the practical side, the tote has been specially lined with plastic; Bucky has been known to be unable to wait until the end of a show for his walkies.) It was a bit annoying having to watch from the back, as I usually sit in the front row. But I did not want to give away my presence before I could get a look at the collection.

Fetherston's designs are meant to be ethereal, but look as though they had been put together from a combination of what the catalogs like to call "tissue weight" fabric (another word for faible qualité) and the kind of bizarre shiny wrapping paper one buys (not moi!) at the local dollar store.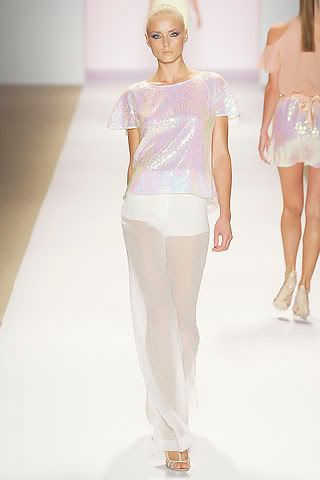 On Saturday, I started my day with—wait a moment, that can't be! Andre Leon Talley, my bosom friend, talking to…RACHEL ZOE? A dagger in my heart!
Later for Saturday! The traitorous rogue!
Added by me:
Ciao,
Elisa & Bucky the Wonderdog