DAHLINGS –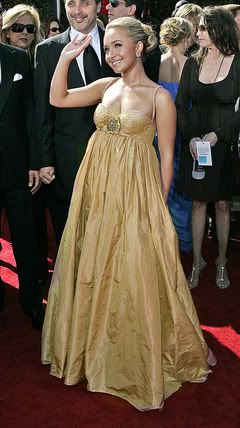 Joe
is clearly as amazed as
moi
at
Suede's
win.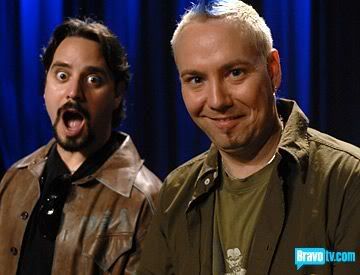 For
THIS???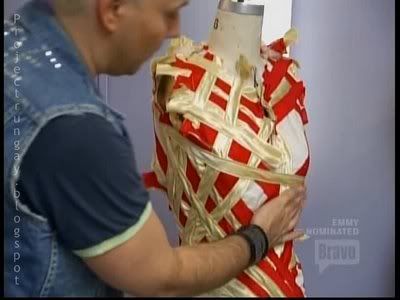 Here the model is thinking,
"I don't remember buying entrails at Mood."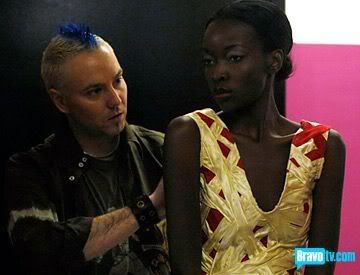 I think the headline sums up my feelings. I was simply
stunned
, as were my viewing companions. Our heads whipped around as we stared at each other in shock.
"Suede?"
"Suede??"

This horrendous
thing,
the result of the challenge (not
only
dressing your model as your client, but having the model pick out the fabric,
and
it had to be "eco-friendly," God help us all),
won!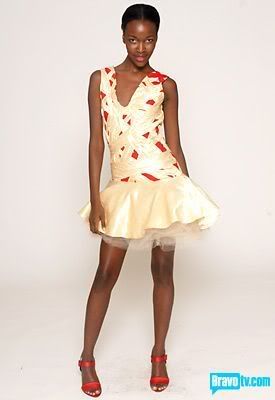 It is at those moments one hears
Patou
screaming in the night.
Your faithful correspondent thinks that
Terri
was robbed. Not even in the top three! And her creation was barely seen on television in the runway show.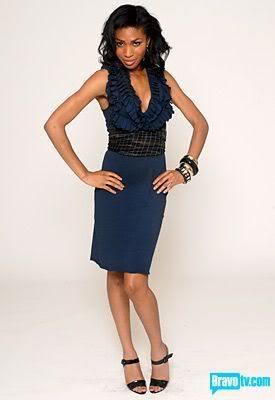 Stella,
meanwhile, faced with the challenge of not working with her beloved "leatha," whined, whined, whined, in her cartoonish
Fran Drescher
accent. Her champagne satin dress was dull and not worthy of being in the top three. However,
Stella's
work was
far
superior to what one of the contestants called "Team Brown Ugly Fabric."
Wesley's
, uh, creation: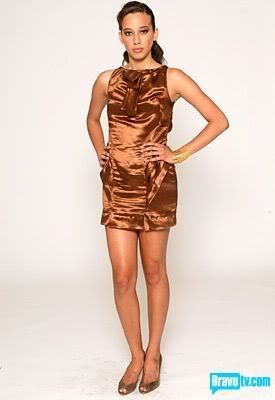 No wonder
Wesley
was auf'ed, although I would have preferred to see the last of
Leanne,
the self-described "silent fashion assassin." A real assassin does not break under pressure, little girl.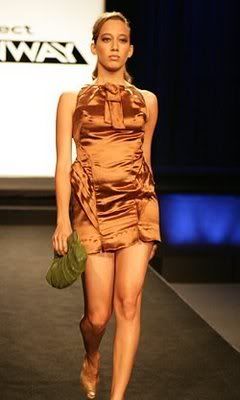 My guests were wondering, why aren't the designers
listening
to
Tim
the way they did in previous seasons? One guest hypothesized that now that three of the judges are extremely known quantities, the designers are working more to please
Heidi, Nina
and
Michael
The Overly Made Up than they are trying to express their creativity.
Frau
Heidi Klum
was in full dominatrix mode, in a black bustier and miniskirt, the usual sadistic glint in her eye. Guest judge
Natalie Portman
had a terrified, deer in the headlights look in her eyes when she first came out. And she gamely tried to dodge being poked in the eye by
Heidi's
bustier as the German witch towered over her.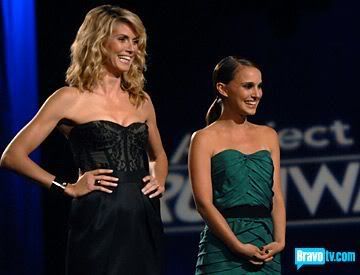 Natalie
did seem genuinely sad at the outcome, the one spot of human emotion amongst the judges. Some have said it was because of
Wesley
being auf'ed, but I think she realized what a mistake she had made in inflicting
Suede's
dress on the great American public.
One pities the poor
Bluefly
designer who has to recreate it for consumer consumption! One hears his/her screams joining
Patou's
in the night.
More later,dahlings -
Ciao,
Elisa & Bucky the Wonderdog