Dahlings –
As I wrote in my last entry, the annual gala for the
Metropolitan Museum's Costume Institute
happened the other night. The theme was
"Superheroes",
those mythic comic book heroes and heroines in leotards and capes, among other strange fetishistic clothing.
Today I am going to concentrate on the
Crimes Against Fashion
that were sprinkled liberally throughout the crowd! If only there was a style
Super Heroine
!
I'd take on the job, but
a)
I am far too busy
b)
I do not care for physical exertion
c)
it would muss my golden locks.
First, we have the usual
hideously gaunt
model (one of many). I seem to recall that during dinner in the Temple of Dendur she passed out face-down in her plate. She was later to be heard bringing up what was left of her supper in the ladies' room by one of my informants.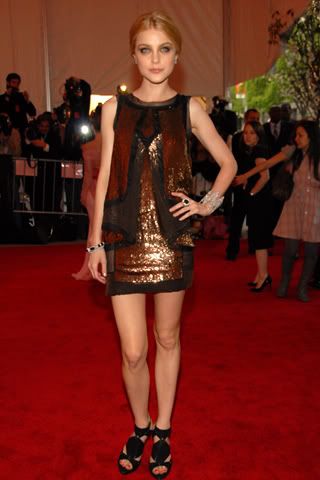 Next, we have
Steven Newhouse and Gina Sanders
. She is dressed as a
Hostess Pink Coconut Cupcake,
and indeed, her dress was quite sticky and
could
be used as a
weapon!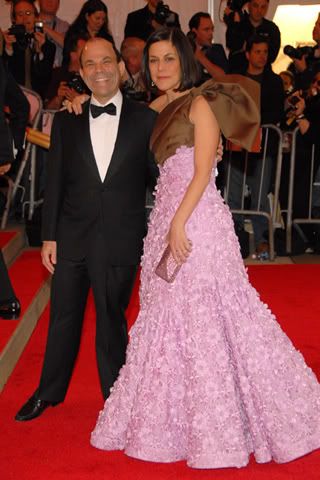 Amanda Brooks
looks quite stunned to be caught in the muslin mock-up of her gown—
Marni
had
PROMISED
to have it ready!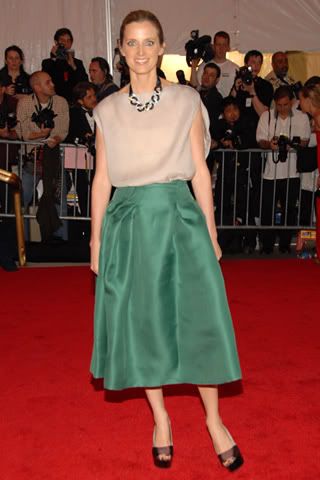 Marni
pulled the same stunt on these two young ladies. They look ready to pull a heist at
Bergdorf's
by hypnotizing the clerks with those horrendous frocks, don't you think?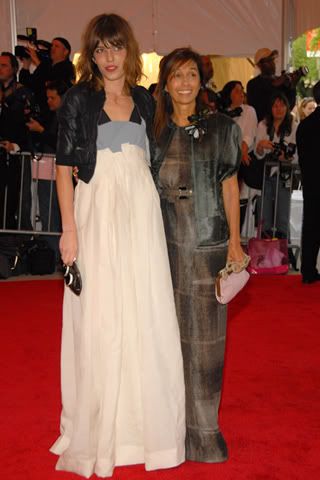 This couple in
Burberry
are pulling the classic Super-Villain and Hero's Girl pose:
"One step closer, Spiderman, and she's toast!"
(Note that the girl really does look quite terrified. Makes one ponder the nature of the relationship, hmmm?)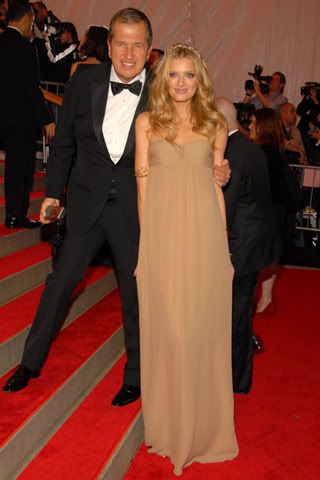 Linda Carter
looks
astonishingly
like an old
Batman
television show villainess, who patterns herself after a bordello owner in the Old West. Perhaps
The Murderous Madam
?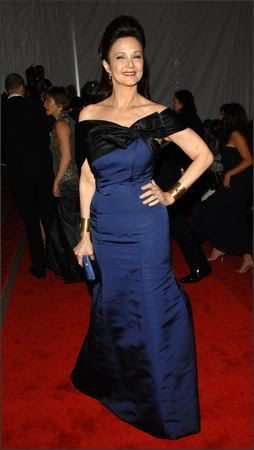 Fortunately, my dear,
dear
friend
Andre Leon Talley
appeared with one of the
Williams sisters.
Andre's spectacular red cape was from
Chanel
, of course. Here he strikes the classic
Superman
pose, shielding Lois from fire/explosions/falling buildings/Lex Luthor by covering her with his indestructible cape!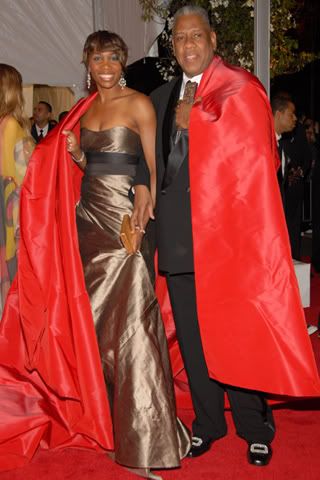 Redeeming the whole evening, in your faithful correspondent's opinion, were the effortlessly stylish
David Bowie
and his wife, the gorgeous
Iman
. "We Can Be Heroes," indeed! Proof that style is
truly ageless
, and I am sure that
Anna Wintour
would agree!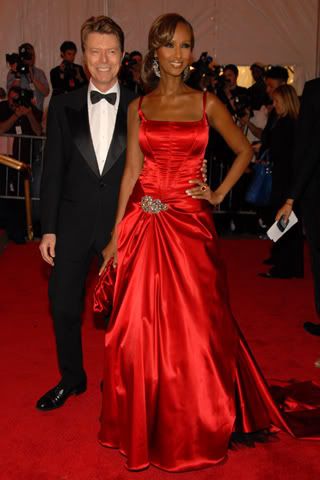 It almost made up for the
Olsen Twins
…I haven't the heart to post a photo of them.
Ciao,
Elisa & Bucky The Wonderdog