DAHLINGS –
Brace yourselves!
There has been a
very
good reason that yours truly has not been around to dictate this blog-thing. Even though I
chastise
myself for not attending to your need for my continuing adventures,
mon cher
readers.
The reason is:
I SHALL BE APPEARING THIS WEEK AT THE MANHATTAN VINTAGE SHOW IN NEW YORK CITY, FRIDAY AND SATURDAY, APRIL 25 & 26!

Stupéfier, non?
Yes, your faithful correspondent is
happy
to announce that she is the guest of
MATINEE NEW YORK,
the
premiere
source of men's and women's vintage clothing supplied to the film and theater industry, and owner of one of the largest collections of men's vintage in the known universe. Of course, I only associate with the
best
people.
But you knew that. That's why you are reading this on the Internet instead of lounging in my sitting room.
Be that as it may:
Two huge racks shall be
bulging
with my
mâchoire-chute beau
PLUS-SIZE
vintage, from the 1930s to the 1980s! Others may
pretend
to the throne upon which I rest, but I shall prove I
reign supreme
. And look
fabulous
while doing it.
Through
hours
of ceaseless toil (well, my assistant's ceaseless toil, anyway) the
finest
of my collection has been chosen and readied for your delectation. Here is just a
tiny taste
of what is in store!
For contrast, through the decades--first, the ultra-Mod 60s white plastic raincoat by Prestige, with matching rainhood
and
carrying case!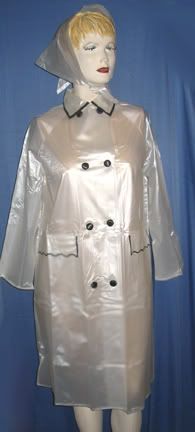 Going back into the past to the 1920s, feast your eyes on this pure silk jet-black flapper dress of charmeuse and velvet, with the original jet buttons, size XXXL!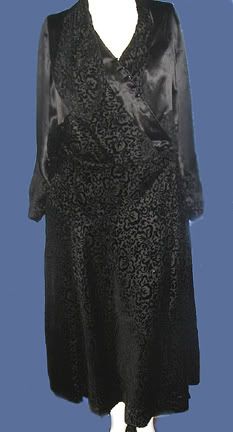 For the young at heart, a sweet gingham 50s dress in lavender with white novelty rhinestone buttons, XL: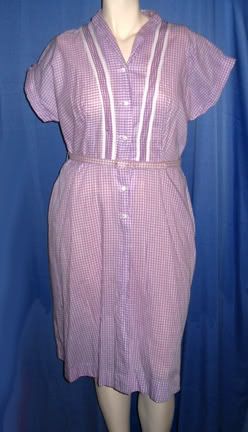 And New Old Stock with tags, this precious flowered full-skirt dress with a tie-belt: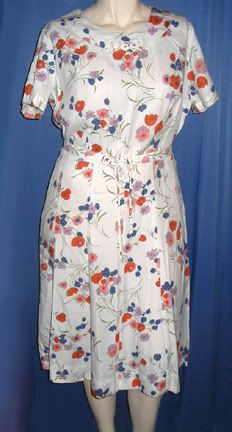 For the woman of more conservative taste, this 70s NOS paisley cotton blend day dress with white novelty pockets: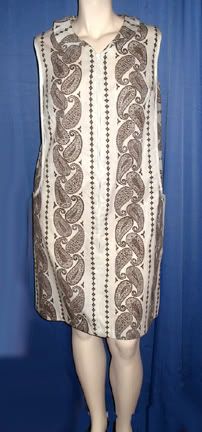 And to close for now, this crystal opal cocktail ring in a band of 18kt gold!
And there will be so much more. Coats, plus size lingerie, separates, shoes...the mind boggles. To see all of this in person, not to mention
moi
, come to:
The Manhattan Vintage Showat the Metropolitan Pavilion
Booth #18 MATINEE NEW YORK125 W.18th Street, between 6th and 7th Avenues in ChelseaFriday: 4/25 1-8 pmSaturday: 4/26 11am-6pmAdmission: $20*
Ciao!
Elisa (regrettably, Bucky the Wonderdog is not allowed at this event.)
* However, if you go to www.manhattanvintage.com, you can click on a link to save $5 off admission. But don't let anyone know you heard it from moi.