DAHLINGS –
Just when I wasn't looking,
Fashion Week
Fall 2008
crept up on me! Yes, I know I have simply
STACKS
of invitations on my desk that my moronic assistant didn't
bother
answering (or even tell me about). It was with
horror
that I awoke this morning in my silk-sheeted bed, Bucky nestled beside me, and realized that
Fashion Week
started
TWO DAYS AGO!

Wait until that assistant comes in tomorrow…I'm going to make her life a
living hell
, let me tell you.
The most I can do for
now
is give you my impressions from looking over the shows on the Internet…a
poor
substitute, I know, but better than no coverage at all,
n'cest pas
?
First, that continuing blight on the fashion landscape,
Yigal Azrouel
, who can always be counted to present a large collection of boring, sexless fashion. Suddenly, the designs on
"Project Runway"
seem like works of GENIUS. He continued with his strange brand of scruffy androgyny: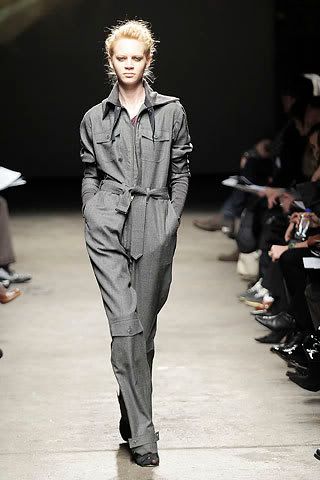 I thank the Gods that be that I was
not
in attendance. I might have pelted the models with chocolate-covered cherries, and started a stampede (that got me ejected from the
Erin Fetherston
show a few years back).
For her show this year,
Nicole Miller
claimed to have been inspired by
Joan of Arc
. (That's
Jeanne d'Arc
to those of us who
parle Francais
.) One supposes there are
worse
inspirations than a hallucinating religious maniac who hears voices and ends up getting killed at the age of nineteen. Actually, that profile would fit quite a few modern pop singers, wouldn't it? It was a nice show, but not one of her best; in fact, one has a rather hard time connecting this puffer jacket gone wild with Catholicism: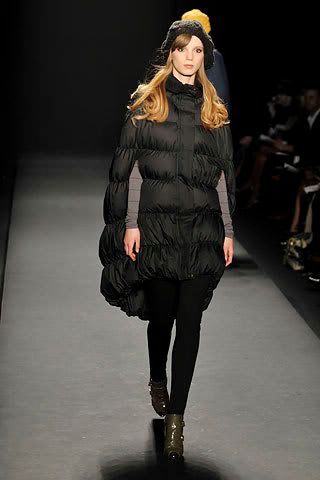 Tonight we close with a rather frightening image from the
Alexander Wang
show. As much as I may rail in this blog against the terrifyingly thin models that stagger down the runways, it seems that
nothing
will stop the shrinking. Today when I at last arrived at
Bryant Park
, there were the usual paramedics armed with Ensure, cocaine and dextroamphetamine. The show must go on.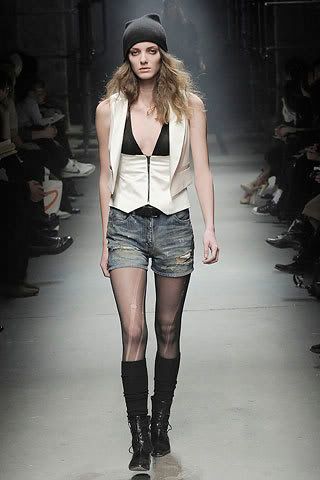 Ciao,
Elisa & Bucky the Wonderdog