DAHLINGS -
Of
course
I have costumes for the
discerning
buyer! None of that rubber mask foolishness for yours truly, but a number of items that will make you look
dazzling
on that special night (unless you want splash fake blood on yourself and make yourself up as a zombie, it's your choice once the garment leaves my hands).
Two are up for auction and end in
two days
. After which they will go into my store,
Elisa's Bodacious House of Style
, at a
much
higher price.
The first was given to me in a church graveyard downtown by a beautiful young bride (you can read more about it in the description), a lovely Victorian-style 70s wedding dress with
black
and
gray
sheer lace and an enormous train! It is a size Small, but one cannot pick and choose one's ghosts!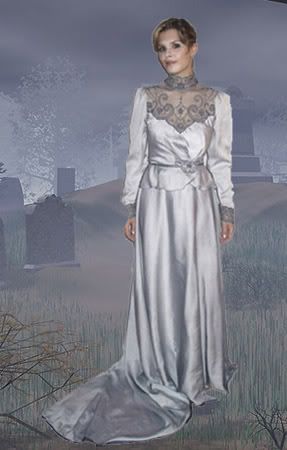 The next is a size Medium. It was a dull white 80s prom dress but my assistant dyed it a shimmering
silver
(it was supposed to be black but the dunce can't do anything right, and it does look
awfully
pretty).
Recently listed is an actual
drag queen
costume--if
Ginger Rogers
were six foot five and a man, she would
love
this dress! Size 3X Tall.
Soon to be listed is another 80s prom dress, in black, size XXL:
And please do check my store over the next week for more wonderful
Halloween
items to come! Including DIY wedding skirts in
very plus
sizes for those of you who like to soil their hands to do with as you wish.
Ciao,
Elisa & Bucky the Wonderdog