DAHLINGS -
There is currently a girl from the temp agency here (I would not trust her with this blog-thing, but she seems to be competent at steaming clothes) until I can get someone up to
my
standards.
Is that
TOO MUCH
to ask? Sometimes it feels like
such
a bother to learn my assistant's name, since there's going to be a
new
one ere long. No loyalty these days,
that
is the problem. No loyalty
at all
. Maybe I should call them all "
Smithie
" and leave it at that.
In any event,
the Bodacious House of Style
is offering some new and vintage footwear for fall, and some of them are already up, so do
please
take a look!
New With Tags Faux Leather Sandals, size
11W
:
Vintage 60s
Coquettes
Hot Pink Fabric Kitten Heels, with original box, size 8:
Strappy
Evan Picone
High Heels, size 8.5:
New
With Tags Fioni Black and White Ankle Cuff Sandals, size
12
: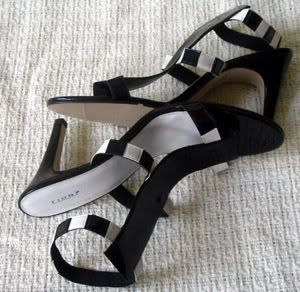 New
Without Box
Steve Madden
Silver Wedge Platform Slides, size 10:
Vintage 80s Midnight Blue Satin medium heel Pumps with rhinestones in the bows, size 12:
What are you waiting for? Start shoe shopping!
Oh, dear, I heard a scream from the workroom...the temp/"Smithie" must have had an accident with the steamer. Why do these things always happen to
moi??
Ciao,
Elisa & Bucky the Wonderdog