DAHLINGS -
I could kill that idiot of an assistant of mine! I send her my notes from my Blackberry, and the fool
DELETES
two of the shows I attended on Thursday!
Bad enough that she made utter HASH of the names
Badgley Mishka
, but then to
ERASE
my deathless impressions of
Stephen Burrows
and
Miss Sixty
! She knew enough to be nowhere in sight when I reeled in on Thursday night after the after-party at
Fashion Rocks
. (Note:
Carrie Underwood
again displayed the common touch, which seems to be her strong suit.)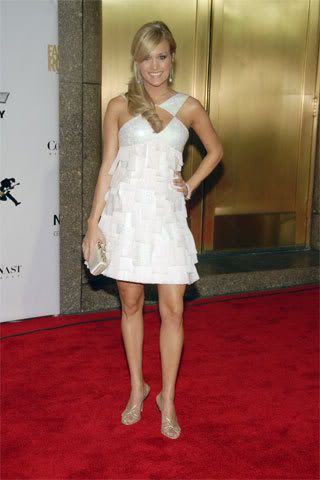 Miss Sixty
displayed utterly ridiculous acid-washed jeans, low-waisted and short. Only the
Olsen twins
could pull them off, and that is being charitable. The hats were, for the most part, large-brimmed and transparent. Really, the
only
redeeming feature were the enormous envelope clutch bags.
I much preferred the
Burrows
show, if only because I love bright colors and I needed some cheering up. The dresses were lively and sweet, and more important; there wasn't a
hat
to be seen!
Naturally I had written much more, but it is all
GONE.

And my assistant was not in the office yet when I set out this morning. DAMN!
Nevertheless, I bundled up
Bucky
in his hand-made
Dooney & Bourke
carrier and hopped into the limo. This year, perhaps to make up for the starved appearance of the models, there are abundant sweet treats
everywhere
. The models merely stare at them, a little drool escaping their pale lips. And most of the fashion industry folk look as though—how do I describe it? —as if they are looking at the
opposite
of crystal meth. But
I've
been
thoroughly
enjoying myself. Too bad poor little
Bucky
cannot have chocolate…but he did get a praline or two.
Behnaz Sarafpour
seems to have gotten back onto her medication. Which has also had the effect of dulling whatever creative faculties she possessed.
Dozens
of
dull
identical shirtwaist silhouettes, although she had her own contribution of the Fashion Week 2008 theme:
funny hats.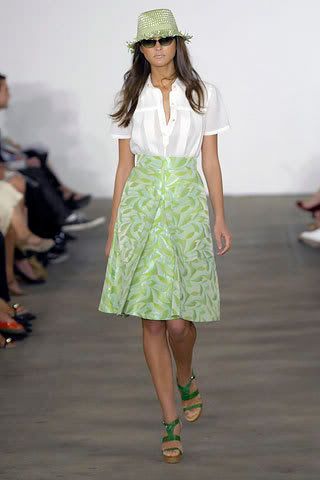 Max Azaria's
show was
quite
nice if you like lingerie, and I do, but I could not quite imagine it as daywear. Although the
heterosexual men
in the audience, what few there were, seemed to be able to. As I watched the models march down the pink runway to the tune of "I Like to Play," their expressions numb with misery, the thought came to mind:
"Would it kill them to smile?"
Perhaps it would. Perhaps they would simultaneously combust or some such.
The
major
commotion at the show was caused by celebrity void
Nicole Richie
, who, it is rumored, is
pregnant
and has what is now tastelessly called a "bump" showing. If indeed this gaunt attention addict is pregnant, we can expect some
very
special attention at the preemie ward at
Lenox Hill hospital.

Meanwhile,
Demi Moore
was at the
Proenza Schouler
show at the Armory, surrounded by bodyguards and looking astonishingly wide-eyed at close range. (In fact, one is not sure she can actually blink.) My revered
Anna Wintour
was there, in what appeared to be a
vintage dress
! Oh, be still, my heart!
I am not a fan of this design team, and their choice of layered vests over various...things was only redeemed by the funny hat of choice for this show: tall military helmets with
feathers.
(Yes, one can
quite
imagine the fashionable young things at luncheon getting their helmets caught in the chandeliers and hanging plants.)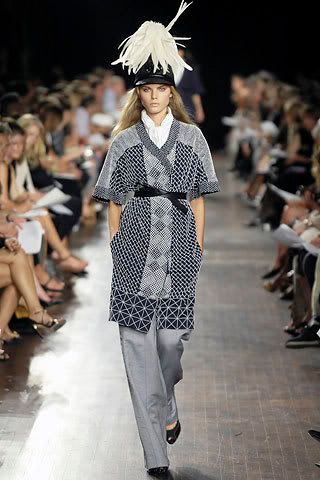 Ciao for now,
Elisa & Bucky the Wonderdog