DAHLINGS -
This entry is a bit of a departure for
moi
. For one thing I am typing it
myself.
But I have a manicure appointment in an hour, so I am happy to sacrifice my nails in the service of you,
mes chers lecteurs.
I was browsing the Web late the other night, Bucky the Wonderdog curled in my lap,
Frank Sinatra's
"Only The Lonely" on
Itunes
. (
Really
, dahlings, his rendition of "One For My Baby"--
guaranteed
to smear the mascara of the most
hardened
fashion maven!)
I came upon a site called
Electric Ladyland
. My finger was stayed from hitting the back button.
Electric Ladyland
is apparently a small chain of boutiques, in, of all Godforsaken places,
Arizona
. (My apologies, but being a New Yorker, anywhere
south
of New Jersey seems like the
backwoods
.) The stores are run by
Penny Long
, a gorgeous
femme d'un certain âge
, and her equally gorgeous son,
Ashley Mutrux
.
What first caught my attention was that the store pictured looks oddly like a heightened version of my
beautiful
Central Park West apartment! Hung with chandeliers, it has that distinctively theatrical, feminine taste for luxury that the true
cognoscenti
instantly
recognize. Leopard print and floral chintz display counters, mannequins wearing large feathered headdresses—absolute
heaven
in the middle of the
desert
!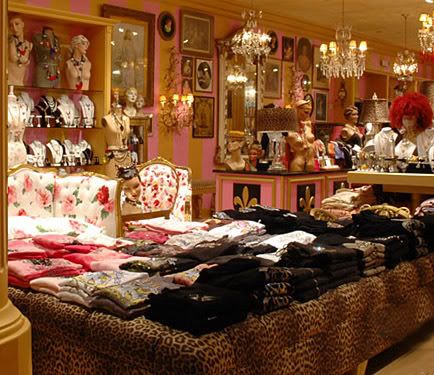 (Photo courtesy Electric Ladyland)

And
they sell brands that run plus, such as
7 For All Mankind
.
But I was most interested in their jewelry. Having taught (or rather, occasionally showed up for) my
"Haute Cou-Poor"
class at
FIT
,
"How Much Is Too Much? The Aesthetics of Bling,"
wherein the great unwashed were shown the difference between
cheap
flashiness and
expensive
flashiness, I wanted to see what people were buying
today.
(No comment on what many of
mes étudiants
were wearing—suffice to say
je pense
some people wear huge gold necklaces with their names spelled on them because the names are impossible to pronounce and they wish to be helpful.)
As you know, I mostly deal in
classic vintage jewelry
, myself.
Most of
Electric Ladyland's
jewelry would
hardly
be called classic. There seems to be a plethora of skulls, crowns and peace signs—one assumes those are meant for the younger customer, or the older customer who refuses to believe that we're not still awash in the Summer of Love.
But there are so many designers, you are sure to find something covetable. As far as classic goes, they carry my
dear
friend
Kenneth Jay Lane
, with many beautiful animal patterned bracelets and earrings. (The rhinestone leopard cuff is
superb
, dahlings!)
Electric Bling
—I do not know if the pieces are designed by the owners or not, but some of them are excellent examples of when too much is
too much
. Take, for example, their
"Dior Style"
rings,
knuckle crushers
one very much doubts
Dior
would have approved of. I do not approve of them being called cocktail rings--they are so large they should be called
Pilsner
rings!
On the other hand,
Electric Bling
has
lovely
crystal necklaces (although the juxtaposition of crystal six-shooters and crystal angel wings takes more irony than yours truly possesses). But I confess, I quite
lost
my heart to a pair of huge turquoise hoop earrings, and a
magnifique
pair of earrings in the shape of red enameled
electric guitars
with white wings on gold hooks! Now I shall have something to wear to the next
VH1 Awards!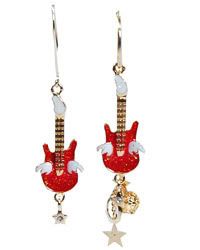 (Photo courtesy Electric Ladyland)
And then there is
SYdney Evan
, designed by
Rosanne Karmes
. Her necklaces are
tres' exquisite,
likewise her earrings. Many of them at
Electric Ladyland
are composed of diamonds set in white or yellow gold. Soon to be part of my collection are a pair of diamond and white gold crown earrings, as well as a blue sapphire "evil eye" necklace. There are quite a few people I intend to point it at! (
Not
of course, my idol,
Anna Wintour
!)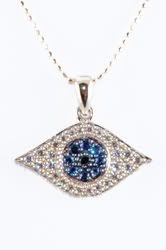 (Photo courtesy Electric Ladyland)
(I have not mentioned most bracelets, because I have large wrists, and none of the designers I looked at gave dimensions for them. In fact, if I had one
teeny-tiny
criticism of the site, it is that there are so few details when you look at a piece. Actually,
two
teeny-tiny criticisms—on their
About Us
page, the word knack is spelled "nack.")
But that's mere
trivia
when you are purveying such
bravura
fashion! I urge you to indulge yourself and visit
http://electricladyland.com/
. It is like a trip to Hollywood without leaving the comfort of your
boudoir
. Bucky never once had to budge from my lap. So we were both very happy, despite
Frank Sinatra.

Ciao,
Elisa and Bucky The Wonderdog