DAHLINGS –
Why, oh
why
did I subject myself yet again to the
Behnaz Sarafpour
show? Hated it last season, DESPISED IT this time. My dears, if you want to see
Depression Strutting
, this was your meat. Dowdy, dull, gray, gray,
gray
.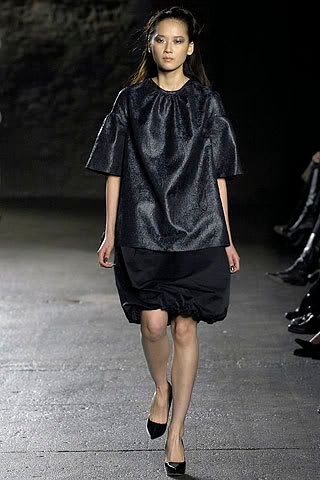 Ms. Sarafpour
must have stopped taking her Zoloft, that's my opinion. Or she did
all
of her designing in a very dark room lit by a candle, with the wind howling outside. Actually, that was also the atmosphere at the show, and it had the intended effect. I ate my
entire
Toblerone.
And the
models
—once again,
hideously skinny teenagers
. You think I would be used to it by now, but it also startles me that anyone so gaunt can be mobile.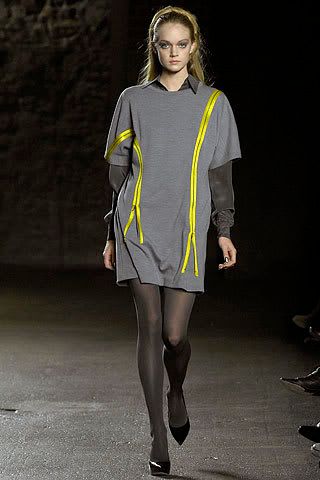 Of course, several models stumbled, but it was because they were passing by
moi
, sitting in the front row with my Toblerone. Understandable.
AND
THE COLD
!
Vogue's
Hamish Bowles
had the sense to wear a scarf, and some others in the audience wore sweaters and coats, but then of course there were those style-at-any-cost look-at-mes like
Piper Perabou
who shivered valiantly in a sleeveless summer frock.
Thank God for
Bill Blass
—or rather,
Michael Vollbracht
. A beautiful collection. But to be frank, your faithful correspondent has seen
far too much
of the wildly original these past few days. Many
Blass
gowns that I plan to order for myself, some
LUSCIOUS
satin brocade fur-trimmed coats, and a
gold dress
that is almost the
exact
duplicate of a gold dress presently being sold by my fellow Ebay seller,
underwood_estates
. See for yourself: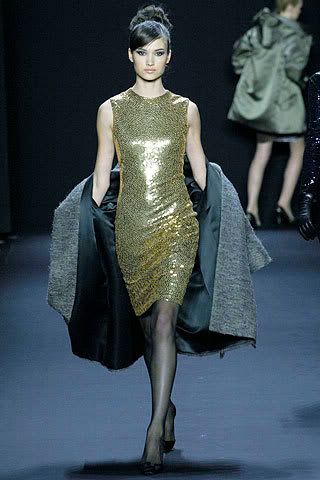 Underwood-estates
is selling it in a
terribly chic size 4
, otherwise it would be in
my
shop.
http://cgi.ebay.com/GOLD-BOMBSHELL-Sequin-Open-Back-Wiggle-Cocktail-Dress-4_W0QQitemZ110080334625QQihZ001QQcategoryZ63861QQtcZphotoQQssPageNameZWDVWQQrdZ1QQcmdZViewItem
My only regret was seeing
First Lady Laura Bush
dressed in
Blass
the other day...but one must push those thoughts out of one's mind in order to function,
non
?
The less said about the
Betsey Johnson
show, the better. Child molesters would have loved it, and I see the same things on
Ebay
every day for far less.
Nothing
original, except for
Joan Jett
in the audience! I am ordinarily not a rock fan, but I was
almost
inspired to play air guitar and belt out "I Love Rock And Roll." Fortunately, I stifled the impulse. My image and all that.
In the midst of all this, I came across a delightful, body-positive way to promote your brand: the company
Jack Spade
has wants to
save the models
: by handing out
cookies
shaped liked
hot dogs
and
hamburgers
to the catwalk stalkers as they make their way around the tents. Each comes with note that reads: "These cookies have been baked with extra love and care, please visit
jackspade.com
to purchase a cookie, a portion of proceeds given to skinny people everywhere."
Must change my outfit
again
…when will this END??
Ciao,
Elisa (sans Bucky The Wonderdog at present)