Dahlings -

And the winner of
The Great Pose Off
is. . .
Fred
. The polls do not lie.
(Although there have been some rumors that the poll was rigged by jealous vintage sellers out to sabotage my burgeoning modeling career. Don't let anyone know you heard it from me.)
However, in truly gentlemanly fashion,
Fred
pronounced that we are
"co-winners"!
Because, after all,
The Great Pose Off
was
my
brainchild. And because we brought so much joy with our little contest to the great unwashed out there in Ebay-land. In fact, one seller, who goes by the ID of majickal_moon* created a picture of Fred and me with the
Great Pose Off Trophy
: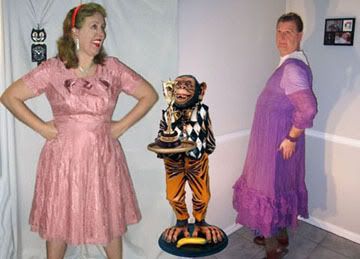 (I admit that I do not expect this to do me any good where
A Dress A Day
is concerned. But one cannot have everything.)
Fred
has won my admiration, which is not easy. I admire very few people, among them
President Clinton
and
Dita Von Tease
, for the wonderful way she takes care of her poor handicapped husband. And of course my dear dead friend
Lana Turner,
who offered to pose for me, until I had to break it to her that generally speaking, dead people do not photograph well. They go all ectomorphic or protoplasmic or whatever that word is for "gray and foggy."
In the meantime, to business. For the discriminating buyer, I have some delightful items in my shop.
Soft Brown Faux Fur Coat, New With Tags, size 3X:
SOLD
Satin Wrap Robe, size 8X, in gold, red and burgundy:
Long Blue Stretch Velvet Dress, 3X, and Vintage Milk Glass Bead Matinee Necklace:
DRESS: SOLD
NECKLACE: In My Store
I must hie myself off to bed, after taking a hot scented bath (using the fragrance specially created for me by wee Sarah Jessica Parker). I wish you all a good night.
Ciao,
Elisa and Bucky The Wonderdog
*One suspects this ID has something to do with dancing naked at night, hmmm?