DAHLINGS,
I have meant, over and over again, to return to this little forum to opine about the important subjects of today, such as: who thinks the
bubble skirt
actually looks
good?
And aren't we all delighted that
Jennifer Hudson
stole the show in "Dreamgirls"? Of course, she is Hollywood's version of overweight, which means she is slightly underweight rather than seriously gaunt. I saw the original woman, something
Holliday
(do you think I have TIME to look it up?) who was large and amazingly talented.
But, it would seem the genitalia of most the males who run Hollywood shrink up when they see a powerful large woman. (The poor dears really do need therapy to get over their mothers.)
Ergo, the "semi-fat" sidekick, who isn't fat but slightly more rounded than the hollow-cheeked heroine. Such as
Jennifer Coolidge
. Why are all these women named Jennifer, anyway? And in that "Shoes" movie about sisters, the obese, slovely one is played by
Toni Collette
--
Toni Collette
!--whose one concession to reality is to have her bras a bit too tight in the back. At least she isn't named Jennifer.
All for now -- but I wanted to let you know that I have a singular selection of dazzling holiday fashions and jewelry, to wit:
"Dreamgirls" era 60s pink lace dress, XL:
Vintage Weiss green rhinestone necklace, signed:
Vintage 80s Joan Collins crystal pleated shoulder and bust emerald green, XXL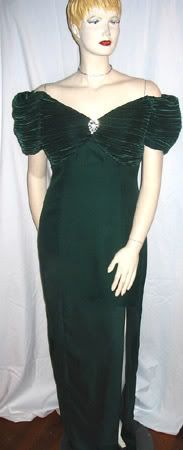 NWOT Niki Livas blue-green organza formal cocktail dress, size 16W:
And much more to come.
Ciao,
Elisa and Bucky The Wonderdog
Today's Fashion Tip:
Prescription For Dressing: BREAKFAST
It's good psychology to start the day with bright colors, so choose something gay in a washable fabric. Breakfast coat, brunch coat, house dress, smock, skirt and shirt or slacks and shirt; + apron if you're cooking; + casual shoes, sandals or flats.
Edith Head
, "The Dress Doctor"