Dahlings -
My
deepest
apologies for taking so long to write. However, when the
Neck-Thing
WON
Project Runway--
(I can barely bring myself to type this)--
I KNOW I'M NOT ACTUALLY
TYPING
IT, YOU FOOL, BUT I MIGHT AS
WELL
BE, FOR ALL THE HELP I GET FROM YOU!
Ahem
. As I was saying, the Neck-Thing won.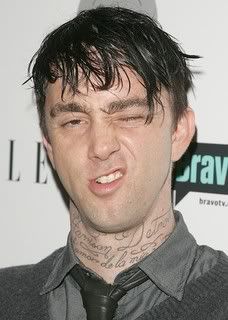 Jeffrey's
hideous
hodgepodge lacked taste, talent, and something beginning with t that I cannot think of just now. I have been in a swoon ever since
Black Wednesday
, lying in my boudoir, the shades drawn, barely able to eat the tidbits my maid brings me. In fact, Bucky managed to snatch quite a few of them before I could reach the plate. He's little, but he's
fast.
Every time I closed my eyes, I saw that horrendous milkmaid dress with the poufy skirt coming at me--
AAAAH!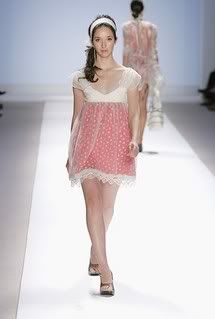 Pardonnez moi
. I'm still quite frail.
WHAT ARE YOU LAUGHING AT?
GET BACK TO THE KEYBOARD!

I gaped in horror as rag after rag paraded down the runway (thank
GOD
I was at a
real
fashion show at the time!). Laura Bennett's collection has been done hundreds of times, but it was rather like an old friend showing up to hold your hand. Uli's collection actually had a few wearable garments that would show off my poitrine most cunningly--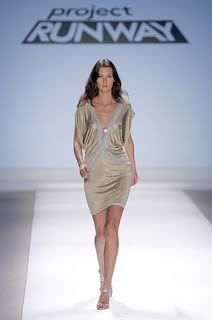 But Michael...dear, sweet
Michael
, what happened? Your collection reminded one of Times Square in the 1970s! (Not that I spent much time there, but I did occasionally look out of Mama's limousine window at the passing parade.) That gold bathing suit could have been worn by a female extra in the old
Star Trek
series.
And then, of course, we were subjected to
Heidi Klum
and her team of fashion assassins. She was salivating at the idea of kicking off not one, but
three
exhausted designers. I am sure that if Ms. Klum had
her
way, they would have been drawn and quartered as well. (One question has bothered me, and I would love to have it answered: when Ms. Klum kisses some one's cheek, is it burned?)
Well, it is over and life must go on. Perhaps tomorrow I shall be able to Face Life again. I shall start by calling the fellow over at the "Haute Cou-Poor" project. It will raise the spirits to discuss Balenciaga. He must be spinning in his grave like a top right now.
Ciao,
Elisa and Bucky the Wonderdog