Good evening, dahlings -
I am SO SORRY that I have not written further about Fashion Week! All of you poor souls are slavering for my opinions on all of the shows I went to, whether by invitation or sneaking under the tent folds.
Some of the shock and awe I experienced can be explained in one picture: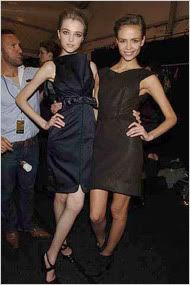 There isn't enough tulle in the KNOWN UNIVERSE to make these emaciated drug addicted children look like women in any sense. You could get razor cuts by shaking their hands. And they were everywhere at Fashion Week, dahlings, staggering down the runways. At the
Behnaz Sarafpour
show, there was so much room room between
Natasha Poly's
thighs you could hear the wind howling...or perhaps it was the horrified spectators. The
Luca Luca
show, where the fashion was as redundant as the label's name, bony knees and gaunt arms were the order of the day.
As a shall we say, robust female, I was deeply disturbed by the prevailing notion that to be
fashionable
is to look like you've been rescued from Auschwitz. Or like a bobblehead doll. Even such steadfast purveyors of beautiful clothes such as
Vera Wang
and
Carolina Herrera
used these stick figures.
I made sure to sit in the front row of every show, blatantly eating chocolate. And enjoying the moans of hunger from the models as they passed before me.
Hana Soukopova
nearly leapt off one runway and attempted to seize the Toblerone from my hand, dahlings, before her harried handlers dragged her off screaming in some foreign language. I think she was saying, "Give me some food! Or some more heroin!"
But enough about that. I shall be selling some divine Halloween costumes at my Ebay store, Elisa's Bounteous House of Style, in sizes from Small* to Extra-Large, with an accent on the
Extra
. Do come take a look!
Ciao for now, dahlings,
Elisa and Bucky the Wonderdog
* Small as in stature, not as in anorexic.